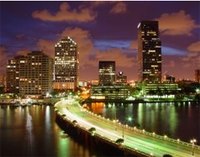 An impressive collection of cultural, historic, educational and active things to do in Miami awaits the traveler looking to explore a destination gift wrapped with sun, surf and a breathtaking skyline. Miami is the most populous and largest city in Florida with endless possibilities in shopping, dining, sightseeing and sunbathing. While luxuriating in the tropical climate of the Magic City, consider the following things to do in Miami.
Visit Metrozoo
Animals enjoy a free-range atmosphere in the cageless Metrozoo, where residents are sorted by geographic territory. The climate of Miami provides ideal habitat conditions for animals hailing from Asia, Australia and Africa. Home to white tigers, gibbons, Cuban crocodiles, lions, bears and a komodo dragon, the zoo also offers hands-on activities including the Samburu Giraffe Feeding Station, where you come face-to-face with the tallest animal in the world.
Miami Metrozoo 1 Zoo Blvd. 12400 SW 152nd St. Miami, FL 33177 (305) 251-0400 http://www.miamimetrozoo.com/index.asp
View Manatees
Heading to the shores of Miami beaches and along harbors and canals allows tourists to catch sight of manatees in the wild. At the intersection of Old Cutler Road, Sunset Drive and Douglas Road, Coral Gables offers a decent location for viewing the herbivore known as the sea cow. Other sites in the wild to consider include Black Point Marina, Oleta Park and Dante Fascell Visitor Center. For an indoor experience, the Miami Seaquarium offers a manatee exhibit in the Celebrity Pool with above and underwater viewing.
Explore the Seaquarium
With dolphins walking on water and killer whales shooting into the air, the Seaquarium offers eight different animal shows alongside a bevy of fascinating exhibits. Between downtown Miami and Miami Beach, interactive programs attract visitors of all ages, including events at Dolphin Harbor. Rainforest inhabitants, such as tropical birds and reptiles, also call the Seaquarium home. Other residents include sea lions, moray eels and endangered sea turtles.
Miami Seaquarium 4400 Rickenbacker Causeway Miami, Fl 33149 (305) 361-5705 miamiseaquarium.com
Skydive
Reaching speeds of up to 120 mph, skydiving is a brief yet exhilarating experience with solo opportunities and tandem parachute jumps (involving instructors) taking place over Miami Beach. One of the more adventurous things to do while in Miami is take a short drive and skydive over the infamous Everglades National Park--home to subtropical jungles and 1.5 million acres of swampland, where the American crocodile and Florida panther reside.
Everglades National Park 40001 State Road 9336 Homestead, FL 33034 (305) 242-7700 everglades.national-park.com
Shop Lincoln Road
On Lincoln Road in South Beach is an open-air pedestrian mall with restaurants, art galleries and retail outlets, including Sushi Siam, Victoria's Secret, Banana Republic and Howard Austin Feld Gallery. Catch a film at the Regal Cinema movie theater. On Sundays, Lincoln Road presents a farmer's market offering fruits, vegetables, nuts, baked goods, crystals and orchids.
Lincoln Road Outdoor Mall Between 16th and 17th streets Miami Beach, FL 33139
Explore Local Waters
Rent a power boat and investigate the open waters of Miami Beach or fish amongst friends. Miami waters are home to sailfish, marlin, kingfish, golden amberjack, grouper and snapper. Private chartered deep-sea fishing trips take place at four marinas in Miami (Crandon Park, Bayside Marketplace, Haulver Park and Miami Beach Marina) with an average price in summer 2009 of $500 to $600 for a half-day excursion.
Experience South Beach
From trendy boutiques to nude sunbathers, visiting South Beach offers a spirited slice of Miami life. By day, the beach swells with tanned muscles and fashionable bikinis, while the nightlife offers exhilarating parties at local bars. For a less crowded experience, visit during the off-season between May and August for lower hotel rates and quieter streets. The worst time to explore the beaches in Miami is during spring break weeks in March and April.
Stroll the Boardwalk
Atlantic City isn't the only city with a boardwalk worthy of your interest. Miami Beach offers four miles of boardwalk stretching from Fifth to 46th Street. A sunny stroll takes you down paved and scenic walkways encircling trendy boutique hotels and the fine dining of Ocean Drive. Stretch your legs and take in the views of glistening hotel pools and the Atlantic Ocean.
Sightsee
Sightseeing tours offer plenty of cultural things to do in Miami with multiple stops and narration to enhance your knowledge of the city. Take an Art Deco tour to learn and browse the interiors of South Beach hotels and other buildings. Hop on a Biscayne Bay boat tour or visit specific neighborhoods, such as Bayside, Little Havana or Coconut Grove. The Duck Tour offers a combination land and sea excursion. Get closer to nature with an Eco-Adventure Tour, such as paddling through canals on the Coral Gables waterway.
Browse a Historical Museum
Gain entry to one of the largest private history museums in the country--the Historical Museum of Southern Florida. Housing 1,900 maps and more than 1.5 million photographic images, the research center is much more than an educational experience. With 12,000 local artifacts, take snapshots of exhibits, including shipwreck treasures, objects from Pan American World Airways and a trolley car dating to the 1920s.
Historical Museum of Southern Florida 101 W. Flagler St. Miami, FL 33130 (305) 375-1492 hmsf.org