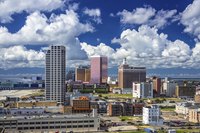 Atlantic City's beachside location, with its famous boardwalk, makes it a regular destination for summer tourists. However, this casino-filled city is a year-round destination with plenty to do, even in the dead of winter. Aside from the usual activities, such as gambling and indulging in gourmet restaurants, Atlantic City has a number of winter and holiday-themed attractions during these colder months. From evening events on the boardwalk to extravagant holiday musicals, the winter season in Atlantic City offers just as much entertainment as the summer.
Major Winter Events
Atlantic City hosts a number of winter and holiday-themed activities in the cold months. The historic boardwalk features Winter Sweet, a nightly7-minute light show that projects magical winter-themed worlds onto the front of Boardwalk Hall, using 3-D elements and is set to holiday music. Atlantic City also hosts a holiday parade down Atlantic Avenue in the beginning of December. The parade features local talent and ends at the Tangier Outlets, where Santa and free hot chocolate await. Also in early December, the historic Absecon Lighthouse hosts an annual one-night holiday gathering with professional carolers, light refreshments and the opportunity to climb the lighthouse and view the Atlantic City skyline.
Family Friendly Fun
Go ice skating in Atlantic City at Flyer's Skate Zone. Public skating is available daily, along with skate rentals. The skating rink includes a snack bar serving pizza, fries and chicken fingers. In early January, head to the beach with hundreds of other spectators to watch members of the Atlantic City Polar Bear Club race into the icy Atlantic Ocean waters. The Atlantic City Aquarium also hosts an annual Breakfast with Santa in mid-December. This ticketed event includes a full hot breakfast with pancakes, scrambled eggs, bagels, fresh fruit, home fries and bacon. Each family will have the opportunity to meet and take pictures with Santa during the breakfast.
Winter-Themed Shows
The Tropicana Casino & Resort put on its annual Tropicana Holiday Extravaganza from mid-November to mid-December each year. This high-energy musical production combines classic Christmas songs with modern and original holiday songs and includes professional high stepping dancers in elaborate costumes. Bally's Legends in Concert series typically include a holiday-themed show during the winter season with celebrity impersonators performing holiday songs. Many of the other casinos also offer some sort of holiday shows, although the specific show varies from year to year.
Explore and Relax
When it's too cold to venture outdoors, take advantage of the amenities and activities at the major casino resorts. Tour the common areas of these resorts, as many will have their lobbies fully decorated with elegant Christmas displays during the holiday season. The Tropicana Casino & Resort in particular goes all out with elaborate and over-the-top Christmas decor, including multiple Christmas trees and millions of twinkling lights.