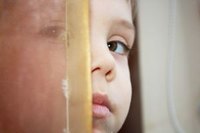 In the case of autism, the earlier it is diagnosed, and the earlier that treatment starts, the better chances the child has of responding to that treatment. Early detection is key, and parents are the first line of defense in the battle against autism. Look for warning signs. While one warning sign might not mean anything, a culmination of warning signs is cause to have your child screened.
Avoiding Eye Contact
Try holding your child's gaze for a few seconds. You may notice that your child avoids eye contact in general, or looks away quickly when you do happen to catch his eye. Children with autism have trouble making eye contact.
Expressions
Look at your child in play. A child with autism has trouble expressing joy, so you may notice that she doesn't smile or get excited often. You may notice that a child with autism comes off as listless and disinterested.
Response
A child with autism may not respond to his name when called. When addressed in other ways, you'll find that a child with autism seems to ignore the person talking.
Nonverbal Communication
A child without autism can use nonverbal communication to express her desires or opinions: a nod for yes, a shake of the head for no. But autistic children can be uncoordinated in their nonverbal communication, having trouble nodding or even showing expression.
Voice Quality
A child with autism may use his voice in unusual ways, or speak in a different voice to others than the voice he would use otherwise. He may also use language in strange ways, such as referring to himself in the third person: "Jimmy wants a cookie."
Repetitive Movements
You'll notice that an autistic child often engages in repetitive movements, either with objects or toys, like moving a car back and forth almost obsessively, or with her own body; waving her arms repeatedly, habitually making the same movements over and over again.
Social Skills
Autistic children often have trouble making friends. They lack the ability to understand social cues, like voice tone or facial expressions. They lack empathy and can often come off as cruel to other children, leaving them isolated and on their own.
Routines
You may notice that autistic children often have an obsession with certain objects or people, or engage in inflexible routines. Disrupting a routine seriously upsets children with autism, and they have a hard time recovering from a simple change.
Self-Absue
Those with autism often engage in self-abusive behavior. They may hit themselves, bite themselves, or hit their heads repeatedly upon a wall.
Sensory Stimulation
Autistic children, while seeming to be less sensitive to pain, are hypersensitive to other senses, such as light or sound. This can make it hard to concentrate in a learning environment with other children talking, or bright lights shining on them. They also probably resist touch, like hugs or cuddling.