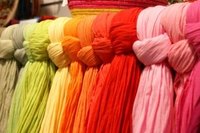 Pashminas are a must-have for any woman's closet. With so many ways to wear them to accessorize an outfit, they are one of the most versatile pieces of clothing you can own. Choose a well-made pashmina of high-quality fabric like wool, silk or cashmere. You'll find yourself wearing it daily with a good variety of ways to tie and wear it.
Sash
Wear your pashmina as a sash around your middle. This is a style reminiscent of belly dancers, that looks at home on the beach as a bathing suit cover-up or around an otherwise plain outfit to give it some color and visual interest. Gather the pashmina in your hands and suspend it around your bottom. Pull it down to cover, then tie at the hip.
Headscarf
A pashmina is a great way to cover your head, keep your hair out of your eyes or stay protected from the sun. There are a variety of ways that you can tie your pashmina around your head. Fold it into a thin band and tie it as a headband or place it across your forehead and tie it behind your head as you would a bandanna. You can also just pull it over your head in a Middle Eastern style.
Neck
Use your pashmina around your neck to brighten up an otherwise dull outfit. Like a regular scarf, you can tie it in a number of different ways. You can loop it around your neck and let the ends fall loose on your shoulders. You can also tie a "Parisian" knot, where you place the pashmina around the neck and then tie it into a knot at the front of the throat.
Coat
Use your pashmina to add a festive touch to your favorite wool coat. Choose a brightly colored pashmina and place it behind the labels of a pea or trench coat before you put the coat on. This works best with a neutrally colored coat, in tan, black or white.
Wrap or Shawl
If you want to use a pashmina as it was originally intended to be used, try wearing it as a shawl or wrap with your formal wear. Just drape it across your back and place it in the crooks of your elbows when you wear a formal dress. You can also pin it with a brooch around your shoulders.