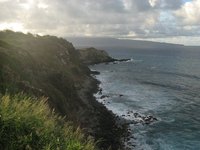 Travelers flock to the Hawaiian island of Maui for fun in the sun, but the fun does not have to stop when it rains. Stash this list of rainy-day things to do into your beach bag in case you need a backup plan.
History and Culture
Walk through an extensive exhibit on Maui's sugar history. Alexander & Baldwin Sugar Museum 3957 Hansen Road Pu'unene (808) 871-8058 www.sugarmuseum.com
Learn about early Chinese influence in Lahaina town. Wo Hing Museum 858 Front Street Lahaina (808) 661-5553 Free admission
Visit the Whaler's Village Museum and see what Lahaina was like when it was a busy whaling port in the 1800s. Don't miss the museum's collection of scrimshaw (intricately carved whalebone). Whaler's Village Shopping Center 2435 Ka'anapali Parkway Lahaina (808) 661-5992 www.whalersvillage.com/museum Free admission
Take a look at vintage Hawaiian fashions. Aloha Shirt Museum 780 Front Street Lahaina (808) 661-7172 www.the-aloha-shirt-museum.com
Wine, Dine, Beer and Buzz
Nab one of the umbrellas on the patio at Aloha Mixed Plate and stay dry while sampling local dishes as well as the delicious view. 1285 Front Street Lahaina (808) 661-3322 www.alohamixedplate.com
Enjoy a chat and a cup of organic coffee grown on the slopes of Halekala at Grandma's Maui Coffee Company. 9232 Kula Highway Kula (800) 375-7853 www.grandmascoffee.com
Sample a red or white at the King's Cottage tasting room at Maui's Winery at Ulupalakua Ranch near the mountainside community of Keokea. (Tedeschi Vineyards) (877) 878-6058 www.mauiwine.com
Relaxation
Indulge in a relaxing Lomi Lomi or "Loving Hands" massage, which features healing prayers and dance-like rhythms. Hale Ho'omana 1550 Piiholo Road Makawao (808) 573-8256
Drop in on a yoga class at one of Maui's many yoga studios. The Studio Maui Haiku Marketplace 810 Haiku Road, Suite 265 Haiku (866) 427-1427 www.thestudiomaui.com
Art and Artisans
Visit Hot Island Glass and watch artists Chris Richards and Chris Lowry create glass-blown works of art. 3620 Baldwin Avenue Suite 101-A Makawao (808) 572-4527 www.hotislandglass.com
Find a high-class, handmade Hawaiian souvenir at one of Maui Hand's three locations. Lahaina Old Town: 612 Front Street, Suite D (808) 667-9898
Ka'anapali Hyatt Regency 200 Nohea Kai Drive, Suite 118 (808) 667-7997
Paia 84 Hana Highway (808) 579-9245 www.mauihands.com
Family Fun
Bring the whole family to the Kupanaha Maui Magic Show, a performance combining magic with Hawaiian myths and traditions. Kanahele Room Theatre Ka'anapali Beach Hotel 2525 Ka'anapali Parkway Lahaina (800) 262-8450 www.kupanaha.com
Visit Dan's Greenhouse in old-town Lahaina to gawk at tropical flowers, buy one of Dan's world-famous Fuku-Bonsai lava rock plants or play with miniature piglets and baby birds. 193 Lahainaluna Road Lahaina (808) 661-8412 www.dansgreenhouse.com
Activities for a Rainy Evening
Experience one of Hawaii's best cultural events---the theatrical production of Ulalena, a multifaceted stage production combining dance, music and mythology. Maui Theatre 878 Front Street Lahaina (877) 688-4800 www.mauitheatre.com Reservations highly recommended.
Head out for an all-night entertainment event at Warren & Annabelle's Magic Show. 900 Front Street, Suite A202 Lahaina (808) 667-MAGIC http://warrenandannabelles.com