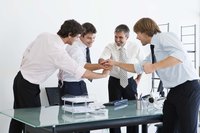 Shareholders eager for a return on investment should look for companies with motivated employees, according to "Forbes" magazine. However, improving employee motivation is much easier said than done. Effective mangers treat motivation as an ongoing process, understand the benefits and drawbacks of financial incentives and realize that a "one size fits all" approach to employee engagement is certain to fail.
Purpose
Employees who understand how their tasks support overall company goals are far more likely to be motivated than those left wondering if their hard work makes a difference. Defining purpose for employees begins with a clear and specific organization mission statement. Managers should also avoid giving abstract objectives to employees such as "our goal is to be the best." Specific goals such as "increase sales by 5 percent" are not only understandable but can be measured and celebrated when achieved.
Job Security
The specter of job loss can also zap an employee's drive. While an individual manager may have little control over impending layoffs, communication can help alleviate fears and sustain employee motivation. For the best results, managers should focus their communication during crisis or times of uncertainly about what change means for employees rather than how the organization will benefit.
Communication
Open, honest and timely communication nurtures employee motivation. Managers who lie, evade or tell half-truths are sure to damage motivation levels. However, managers who trust their team with news, even if it's negative, will reap rewards in engagement and drive. In addition, managers should also remember the importance of two-way communication and remain open to feedback.
Coworkers
Employees who give their all but see other coworkers consistently doing half as much for the same reward will eventually lose their drive. Managers must deal with unproductive, negative or toxic team members by retraining or reassigning the problem employee or enforcing the rules with consequences such as docked pay or job loss. Most importantly, managers must be specific about job expectations and communicate any action taken toward the employees who fall short.
Praise
Praise is simple and cheap but must be done correctly to influence employee motivation. First, praise must be delivered quickly and must be specific to the accomplishment. Saying "your report was well written and compelling" is more effective than "great job." In addition, managers should avoid coupling praise with criticism such as "While I enjoy your writing, I have serious questions about your claims." Praise can be done in front of the team, but corrections should be done in private.