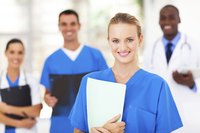 Registered nurses enjoy average salaries higher than $65,000 and possess in-demand education and career skills. Registered nurses with multiple advanced degrees, including MBAs, are qualified for career transitions and advancement into specialty areas such as nursing management, critical care or oncology nursing. Nurses with MBAs enjoy higher salaries and more career diversity than new registered nurses without advanced degrees. They are qualified for nursing administration and management, special programs implementation and hospital administrative positions.
High-Paying Jobs
The U.S. Bureau of Labor Statistics reports that the average annual wage of registered nurses in 2012 was $65,470. The top wage-earners made more than $92,000, with nursing management and hospital administration opportunities for nurses with advanced degrees, such as MBAs. The highest-paying cities for RNs with MBAs are in California, including San Jose, Oakland and San Francisco. Those in Salinas, the highest reported city, earned an average of $132,650.
Several Years of Study
Registered nursing students prepare with either a bachelor's degree, an associate degree or a diploma from an approved nursing program. The rigorous programs of study include anatomy, biology, physiology, nursing theory and nursing science, taking between two and four years, plus a licensing exam. An MBA requires an additional two to three years of study, and is recommended for those who wish to work in healthcare management, such as nurse manager, hospital administrator or research program director.
Excellent Job Growth
The BLS estimates a much faster than average job growth for registered nurses -- 19 percent through 2022. Nurses who wish to work in healthcare administration will enjoy even greater job growth in the same period -- 23 percent. That is more than double the average for all occupations.
Similar-Paying Occupations
Occupations related to registered nursing that require advanced degrees and enjoy higher wages include advanced practice specialties such as clinical nurse specialists, nurse practitioners, nurse-midwives and nurse anesthetists. All require further education after earning a degree in nursing and command higher salaries in specialized areas of healthcare and nursing. Nursing doctorates also require advanced education for positions such as Doctor of Nursing Science and Doctor of Nursing Practice.