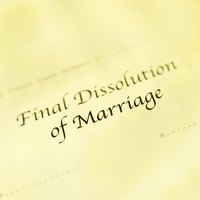 Division of property is a common point of contention in divorce proceedings. Maryland is an "equitable distribution" state, which means that, unlike community property states, the court does not allocate assets on an even basis. Rather, the court will allocate assets based on an equitable basis.
Pensions as Marital Property
Pensions and retirement plan contributions that were earned during the marriage are considered part of the "marital property", unless specifically excluded by a valid prenuptial agreement. Contributions earned during separation but before the divorce is final are also included.
Division of Property
Ideally, you and your ex-spouse will collectively decide on an equitable separation of property. If this is not possible, however, the court will determine how to allocate marital property. The Maryland Marital Property Act specifically grants courts the power to transfer ownership of an interest in a pension or retirement plan to one or both parties.
Determining Equitable Distribution
In making its determination, the court will consider: monetary and nonmonetary contributions to the marriage, value of the property, economic circumstances, factors contributing to the divorce, age and health of both parties, how property was originally obtained, and any other factors of the court's choosing.
After the court determines a distribution of property, it may also award monetary compensation to one party to adjust for any inequity that may result from the distribution.
Pension Valuation
While the contributions to a retirement plan such as an IRA or 401(k) can be clearly valued as of the date of divorce, the value of a defined benefit plan such as a pension is less clear. The Maryland courts have developed a formula to calculate the approximate value of future pension payments to which the ex-spouse would be entitled.
Known as the Bangs Formula, this estimate is calculated as: ½ x (total years of marriage / total years of employment). This formula is designed to provide an estimate of future pension payments to which the ex-spouse would be entitled. However, the court is free to adjust this amount to achieve its goal of an equitable distribution.