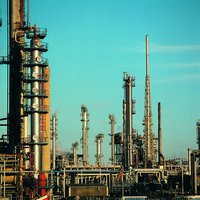 Processed petroleum - what we know as gasoline or oil - is used to power everything from diesel trucks to gas stoves in residential homes. Similar to other raw materials processed and sold in the marketplace, oil is traded on major commodity exchanges all over the world. Oil traders are professionals who specialize in the trading of this commodity and help secure the best pricing for banks and investors looking to invest in the commodity market. The average salary for oil traders is significantly higher than the national average for all occupations combined, according to the Bureau of Labor Statistics.
Function and Average Salary
A July, 2011, Indeed report stated that crude oil traders averaged $76,000 per year, excluding bonuses and commission. Oil traders are paid to track the movement of commodity markets, and discuss stock and bond issues with potential oil investors. As a result, their work days are often filled with split second decisions that could mean the difference between making and losing millions of dollars. Acting on behalf of their investment bank, oil traders look for the best price on an exchange, and then buy or sell the order. A significant portion of an oil trader's time is spent monitoring financial news on the oil market, and collecting data regarding oil assets. They also communicate frequently with supervisors and investors on significant trades and relevant market developments.
Geography
Average salaries for commodities traders - which include oil traders - fluctuate across different geographies, according to a July, 2011, SalaryExpert report. Commodities traders working in Miami averaged $69,806 per year, while their counterparts in Los Angeles reported an average salary of $76,835 annually. In Phoenix, commodities traders averaged $59,863 per year. Higher salaries were reported in cities such as New York City and Charlotte, where commodities traders averaged $96,215 and $85,472 respectively.
Moreover, a November 2005 eFinancialCareers article stated that New York and London were the cities that paid the highest average salaries for commodities traders. Average salaries for New York traders with at least five years experience fell between $125,000 and $150,000, with bonuses reaching as high as $1 million. Commodities traders with the same level of experience working in Paris and Germany typically earned a salary of approximately 90,000 euros.
Industry Comparison
The Bureau of Labor Statistics groups oil traders under securities, commodities and financial services sales agents. According to a May, 201,0 Bureau of Labor Statistics report, oil traders averaged less than the national average salary for the overall commodities traders sector. For example, the average salary for securities, commodities and financial services sales agents was $95,130 per year. However, the BLS also listed average salaries for earners across all percentiles. For example, earners within the 10th and 25th percentile averaged between $31,330 and $40,860 per year. For professionals in the top 75th to 90th percentiles, average salaries reached as high as $124,450 annually.
Job Outlook
Jobs for securities, commodities and financial services agents - which include oil traders - are expected to increase nine percent between 2008 and 2018. Although the 2008 to 2009 financial crisis resulted in significant layoffs and mergers across the investment banking sector, the BLS predicts that job opportunities will emerge in smaller investment banking firms for qualified applicants. Candidates with MBA or master degrees from prestigious universities, and Chartered Financial Analyst (CFA) certification will be competitively positioned for entry-level job openings during this time period.