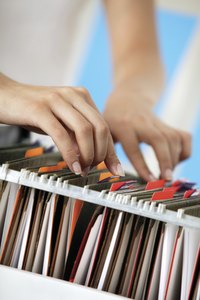 One of the vocations with the largest amount of job openings in the country, the U.S. Bureau of Labor Statistics states that it is the duty of office managers to help make sure an organization runs efficiently. With the right skills, an office manager can advance into a position as an executive secretary, trainer or manager.
Communication Skills
Because office managers are responsible for answering telephone calls, answering emails, writing letters of correspondence and greeting those who enter an office, communication skills are vital to the job. In addition to communicating in a professional manner, an office manager needs to make sure he correctly understands the information he receives so he can properly relay it to the appropriate people in his office in order to avoid confusions or miscommunications. Office managers should have good telephone manners, proper grammar and the ability to handle with difficult people.
Organization Skills
An office manager often fetches and puts away client files for those in her office, keeps calendars, builds contact lists and helps remind others about scheduled appointments and meetings. She may be required to create organization and filing systems within an office to help increase productivity. Additionally, if an office manager received documents on behalf of other departments, such as expense reports for the accounting department, she must make sure she delivers such items to the appropriate department in a timely manner.
Technological Skills
In addition to using photocopiers, fax machines and calendar software, many office managers are required to know how to use some of the latest software and hardware devices. Such electronic devices include scanners, digital cameras, audio-visual equipment and complex telephone systems. An office manager must also be able to use word processing, desktop publishing and spreadsheet programs, manage databases, make presentations and digitally enhance photographs. According to the BLS, the office managers who are in most demand are those who have experience with various computer software applications.
Financial Skills
It is common for office manager to work with financial documents that range from budget reports to expense accounts. In a work environment where an office manager interacts with clients, such as insurance agencies, she may need to process client payments, provide change, create petty cash reports and prepare daily bank deposits accurately. In some instances, the office manager may need to create financial reports, prepare quotes or help maintain an inter-office budget.