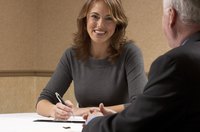 Being a good leasing agent requires a blend of written and oral communication skills. Having the ability to communicate well can help you make rental sales and smooth over problems with tenants. Hiring managers like to see your written communication skills shown through your resume. The objective section helps you showcase those skills, while explaining what you're looking for in a new job.
Stating the Facts
A basic objective should get your key points across in two to five sentences. Your object should state where you would like to work and why. For example, as a leasing consultant, you could want to work for a corporation with several apartment buildings, as working with a larger firm would let allow you to travel to different complexes and work with different clientele.
Highlighting Key Skills
An objective should highlight your greatest skills without simply repeating the skills section of your resume. For example, as a leasing agent you likely have good interpersonal skills, the ability to close real estate sales and a friendly attitude towards customer service. Work two or three of your best skills into your resume. For example, you could say that your ability to communicate effectively makes you an ideal candidate for showing residential units at a small, privately owned apartment complex.
Showing Future Goals
An objective should show a prospective employer what you can do for them now, and what you plan to do for them in the future. Hiring managers like to see that you take your job seriously and see your work as a leasing agent as a career, rather than a part-time gig. You can include your future goals by working them into your objective. For example, you could say that you'd like to secure a position at a large property management firm that will allow you to grow into a supervisory position in the future.
Tips
Place the objective section towards the top of your resume, before listing your skills or work experience. Placing your objective at the top gives your resume a summarized feel, and helps managers narrow you down as a candidate. When crafting your objective, use the same font style and size as the rest of your resume. Do not add color, different fonts or odd characters to make your objective stand out.