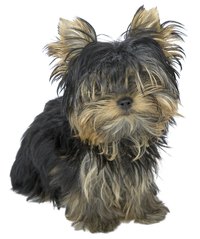 A Yorkie Poo is a "designer" dog that is a mix between the Yorkshire terrier (more commonly known as the Yorkie) and the Poodle. Other names for this particular dog breed include a Yorkie Doodle and Yorkipoo. Because a Yorkie Poo is a crossbreed, not a purebred, it cannot be registered with the American Kennel Club and other purebred registries. However, owners can register your dog with the American Canine Hybrid Club, the Designer Dogs Kennel Club, the International Designer Canine Registry and the Designer Breed Registry.
Find a Reputable Breeder
If you want to buy a quality Yorkie Poo, you must look for a reputable breeder. Not all breeders are created equal. This is especially true for designer dogs. A responsible breeder will only mate healthy dogs with the correct temperament. In general, a Yorkie Poo is a loving, attached member of the family. They are energy, playful, and they crave attention. This designer dog is a wonderful family pet due to its ability to cohabitate with other pets and its friendliness towards children.
When choosing a Yorkie Poo breeder, you need to visit the dog's home environment and pay attention to how the Yorkie Poo interacts with the breeder and his littermates. The ideal Yorkie Poo will be friendly and outgoing.
First Generation Cross vs. Multi-generation Cross
Another factor to consider when buying a Yorkie Poo is whether you have a "pure" Yorkie Poo. Also called a first generation cross, a "pure" Yorkie Poo is the offspring of a purebred Yorkshire terrier and a purebred Poodle. Some breeders are sloppier in their breeding behavior, and they engage in multi-generation crosses, in which they cross a Yorkie Poo with another Yorkie Poo. Other breeders will perform a backcross, in which they cross a Yorkie Poo with a Poodle or a Yorkshire terrier.
The Yorkie Poo's size, coat type, character, and temperament can be quite varied, depending on the type of cross.
Size of the Yorkie Poo
When buying a Yorkie Poo, you should consider the size of the dog. The adult size of the Yorkie Poo will largely depend on the type of cross the breeder performed, and the size of his parents.
Yorkie terriers are small, lightweight dogs that weigh between 4 to 7 lbs., on average. Teacup Yorkies will weigh less than this. However, Poodles have a variety of sizes: miniature, toy and standard. The type of Poodle used in the breeding process will determine the size of the Yorkie Poo. Most Yorkie Poos are between 5 and 10 lbs.
Coat Type
Before buying a Yorkie Poo, you may also consider looking at the dog's coat. There is variety among this designer dog's coat, and this depends on the type of cross that the breeder performed.
A Yorkie Poo that is 50 percent Yorkshire terrier and 50 percent Poodle can have either long hair, like a Yorkie, or wavy hair, like the Poodle. In this first-generation cross, the pups in the same litter may have different coat types. Some may have the same coat as the Yorkie parent; the others may inherit the Poodle's coat type.
If the Yorkie Poo's parents were a Yorkie Poo and a purebred Yorkshire terrier, this designer dog has 75 percent Yorkie in him. As a result, his coat will be more similar to the Yorkshire terrier.