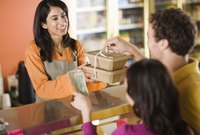 Knowing how to deal with difficult customers is an essential skill for employees in many types of businesses. When you settle a customer's problem or tactfully manage his chronically irate personality, you're showing that you value him and want to keep his business, says business consultant Judi Moreo. With the right perspective and know-how, almost anyone can master the art of customer diplomacy.
The Basics
The two basic types of difficult customers are acute and chronic, says the business strategy website Product-ivity.com. Acute customers become upset if a product fails to work or service they paid for is shoddy; they seek an answer to a specific problem. Chronic customers, on the other hand, are demanding know-it-alls who are harder to deal with because they seem impossible to please. Know whether a customer is acute or chronic so you can plan the right strategy, say customer service experts at credit card giant MasterCard. For example, you can deal with chronically difficult customers by getting to know them personally over time. MasterCard recommends that you give your personal cellphone number to these chronic complainers so they can call you when problems arise.
A Proper Frame of Mind
To acquire the frame of mind that helps you successfully negotiate with customers, you must stay true to business goals, develop empathy with the customer's plight and remain objective. Business instructors at Fayette County Career & Technical Institute suggest recalling that your goals are to correct the customer's problem in a way that retains her patronage. To feel empathy, recall a time you were dissatisfied over substandard products or service and felt comforted when an attentive customer service representative tried to right those wrongs. Finally, while objectivity seems unreachable when customers turn nasty, business writer John Wiley says you can achieve it by mentally detaching yourself from the situation. "It's not the customer against you," says Wiley, "but you and the customer against the problem."
Acknowledging the Customer's Feelings
Difficult customers who are disappointed with a business's product or service typically react with anger. Confront the anger, then disperse it with active listening and sincere responses, says business author Alan Fairweather. Skilled customer service handlers often refer to the customer by name during the conversation and even verbalize the customer's feelings as follows: "Our mistake has cost you time and money; it would bother me, too."
Fact Gathering
Solving a difficult customer's problem demands thorough investigation. Don't stall that process by assuming the customer is more sophisticated than she is, says business coach Breanne Harris. To identify the root of the customer's complaint, says Harris, ask questions to assess her knowledge of the product or service. For example, if a customer complains her new printer is not working, don't assume she knows how to turn it on. Without suggesting that you doubt her technical skills, ask her to recount her steps in trying to make the computer perform.
Controlled Negotiation
Controlled negotiation means speaking slowly and calmly to show the customer you are not rushing him out the door, says Harris. The customer will realize you take his complaint seriously and want to compensate him; that helps you control the discussion. Maintain control with a technique called "pacing," which means you adopt the same tone and gestures as the customer. According to Bloomberg Businessweek, pacing helps you connect with the customer in a way that allows both of you to maintain composure.
Solving Problems
Solving a difficult customer's problem requires ingenuity and thoroughness. Show ingenuity when a customer is upset because you don't carry a product he wants. In such situations, Entrepreneur magazine suggests finding out what makes that product so appealing to the customer and suggesting a product with similar specifications. To pacify a customer who feels victimized by defective products or poor service, Moreo advises that you detail the steps you will take, including the resources you will use, to rectify the matter, preferably starting the process with the customer in front of you. If you can't complete the process right away, obtain the customer's contact information and tell him you will call or write when you solve the problem.