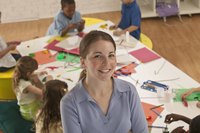 As elementary teachers guide their young charges through their introductions to communication, math, history, science, writing and socializing, these educators have a lot to "study" on their own as well. An elementary school teacher's salary may be impacted by several factors completely outside of the four walls of the classroom, including where that classroom is located and the type of industry that hires the teacher. As a federal salary survey indicates, it takes a few considerations to get to the head of the class.
Classroom Count
Nearly a million and a half elementary school teachers stood at the front of classrooms to greet students embarking on the beginnings of their educational paths. The U.S. Bureau of Labor Statistics calculated a $51,660 median salary nationwide for the 1.49 million elementary school teachers during the time period of its May 2010 Occupational Employment and Wages report. The teacher salary scale ranged from $34,390 at the 10th percentile to $80,140 in the 90th percentile.
Industry Review
While elementary and secondary schools were, without surprise, the largest employer of elementary school teachers, that category's annual mean wages of $54,360 put it just fourth on the BLS list of top-paying industries for the profession. The highest-paying category for elementary school teachers were colleges and universities, paying $56,650 for those in the field. The individual and family services category came in second, paying $56,270, followed by general medical and surgical hospitals paying $55,840. While religious organizations were the second-largest employer of elementary school teachers, their annual mean wages for the profession were $42,880, significantly under the country's median.
Top Teachers
Alaska's elementary school teachers earned the highest salaries at the time period of the BLS study, with annual mean wages of $69,130. States on the East Coast took the next four highest spots. New York's teachers earned the second-highest salaries, at $67,940, followed by those in Connecticut, earning $66,500. Employers and school systems in Rhode Island paid their teachers $65,020. Elementary school teachers in the District of Columbia had the fifth-highest salaries, at $63,370.
Most Jobs
The states with the highest-paying salaries didn't always correlate with the states that employed the most teachers. California, topping the BLS list as the largest employer per capita of elementary school teachers, didn't make the BLS top five list, even though its annual mean wage for the profession of $63,010 was significantly above average. Texas was the country's second-largest employer of teachers and paid an annual mean wage just under the median at $51,090. New York, the country's second-highest paying state for teacher salaries, was the third-largest per-capita employer. Illinois placed fourth, with elementary teacher salaries of $59,460. Florida offered $49,820 annual mean wages for teachers and took the fifth largest employment spot.