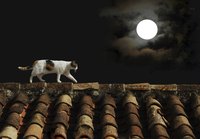 If Kitty is acting squirrelly, you might want to look out the window and check the status of the moon. If it's full, you can blame his behavior on the lunar cycle. There's some science behind the theories of full moon behavior concerning cats, although there's also a lot of superstition.
The Emergency Vet
An 11-year study conducted by researchers at the Colorado State University College of Veterinary Medicine and Biomedical Sciences investigated the frequency of feline and canine emergency veterinary visits in conjunction with the lunar cycle. More cats and dogs were brought to the emergency veterinary hospital during the full moon than in other phases of the cycle. The study concluded that there was a "significant increase" in such canine and feline emergencies during this lunar phase.
The Reasons Why
The CSU numbers indicate that emergency veterinary visits for felines rose nearly a quarter -- 23 percent -- during full moon phases. The reasons for the emergency visits ran the gamut, including trauma, seizures and cardiac arrest. Researchers weren't sure why so many more pets came into the hospital during the moon's brightest phases, but theorize that cats might hunt more during a full moon and are more likely to suffer injuries -- a theory contradicted by studies on African predator behavior. However, the CSU study did not show more trauma injuries to cats during the full moon.
Big Cats and the Moon
In the African jungle, people are actually safer from big cat predation during a full moon than when the night is darker. In a study published in 2011 by PLOS One, researchers found that African lions ate more during moonless nights than when the moon was full or bright. Lions catch and eat more game during the new moon phase, when the night is darkest. The study found that attack rates vary significantly according to moon phase.
Anecdotal Evidence
Anecdotal evidence isn't science, but it shouldn't be discounted completely. You might think your cat definitely behaves differently during the full moon. Perhaps he meows excessively or runs around more at night. Emergency veterinary hospital workers, while not officially participating in a study as with CSU, often report increased activity during the full moon, with some bizarre or exceptional cases coming in during that time. For example, owners might bring in cats displaying strange behavioral symptoms that might subside once the moon starts waning.