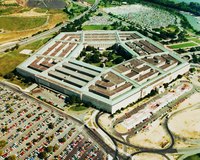 Since its creation in 1961 as a combat support agency of the U.S. Department of Defense, the Defense Intelligence Agency has supported national security by gathering and analyzing vital information for military officials and defense policymakers. DIA agents, formally known as intelligence officers, collect, analyze and report intelligence on foreign military capabilities and political events, supporting U.S. military operations and defense planning. Defense intelligence agents' salaries vary widely, based on their education, background and skills.
Starting Salaries
The Defense Intelligence Agency employs individuals with research, technical and communication skills to serve as intelligence officers and analysts, assisting senior-level personnel in producing intelligence assessments focusing on political and military developments in other countries and regions. Salaries for intelligence officers range from $38,790 to $75,600 per year in 2010, based on education and experience, according to the website Making a Difference, which lists international relations jobs in the federal government. Employment as a DIA agent requires an undergraduate or graduate degree in such fields as computer science, economics, political science, geography, history and international affairs, among others.
Intelligence Officer Salaries
Experienced intelligence officers within the DIA earned salaries ranging from $62,467 to $115,742 per year in 2011, depending on an individual officer's qualifications, according to the U.S. Office of Personnel Management's USA Jobs website. This range is equivalent to levels 11-13 in the U.S. government's General Services salary schedule for the Washington, D.C., area. The DIA was scheduled to transition from its existing banded pay structure to a GS-style salary schedule in September 2011, according to the USA Jobs site.
Senior-Level Officers
Senior defense intelligence officers stationed at the Pentagon in Washington, D.C., earned salaries ranging from $81,823 to $125,695 per year in 2011, according to USA Jobs. The agency's DIA Jobs website reported that this range is equal to GS-13 and 14, two of the highest levels in the 15-step GS salary schedule for federal employees. Under the Defense Intelligence Agency's banded pay scale, senior officers serve at band 4, the highest level. Actual salaries within the specified range depend on an individual officer's education, experience and other qualifications.
Language Proficiency Pay
Effective intelligence gathering and analysis often requires knowledge of foreign languages. Defense intelligence agents with proficiency in one or more foreign languages can qualify for additional pay, according to the DIA website. The actual amount of foreign language proficiency pay depends on a person's proficiency, as well as how critical the language is to the agency's mission. U.S. intelligence agencies especially need officers and analysts who can speak and read Asian and Middle Eastern languages, including Arabic, Bengali, Chinese, Pashtu, Uzbek, Urdu, Farsi, Dari, Indonesian, Mongolian and Japanese.
Geography
Listed salaries for defense intelligence officers may be increased based on the geographic location of an agent's assignment. In addition to Washington, D.C., the DIA offers positions across the United States and abroad, including England, Japan, Korea and Germany.