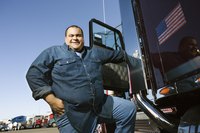 Most trucking companies pay drivers by the mile. Starting drivers receive the lowest pay, and professional drivers writing for TruckingTruth note that the small companies -- known as break-in companies -- are much more likely to hire inexperienced truckers and pay considerably less than the larger and well-known companies. A new trucker can expect 25 cents a mile and hope for up to 35 cents a mile.
Pay Per Hour
New drivers can expect 26 to 29 cents a mile, according to CDL Training Today. Established companies start drivers at 30 to 35 cents a mile, but many drivers only get those jobs after a stint of experience with a smaller and lower-paying company, according to TruckingTruth.
Annually
TruckingTruth estimates that most starting drivers can expect $35,000 in their first year. The Bureau of Labor Statistics reports a lower $30,270 and below for the lowest-earning 25 percent of truckers, a category many new drivers fall into. On top of the base cents per mile, truckers can earn bonuses for speed, safety and fuel efficiency, as well as cost-of-living increases of 1 to 1.5 cents per mile each year.
Benefits
Working for a trucking company comes with a standard set of benefits, including basic health (often including vision and dental) insurance, a week or two of paid vacation and a 401k with matching contributions from the company.
Growth and Advancement
Once a driver signs on with a large company and receives a few raises, there is not much room for advancement. Some truckers opt to specialize or become owner-operators who manage more of their own business and keep more of the profits. However, trucking is a stable job: the Bureau of Labor Statistics expects the industry to grow slightly more than the overall economy and FleetOwner, a trade publication, expects wages to rise as Baby Boomers -- including experienced drivers with stellar safety records -- retire.