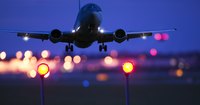 Anyone who has spent time on airplanes has probably heard a warning from the cockpit to buckle up because the plane was experiencing turbulence. In many cases, the jolting or shaking motion is barely enough to spill a little of your drink, but sometimes it can cause injuries. Understanding how turbulence forms and whether it is a danger to you can help make your flight more relaxing.
Definition
Turbulence includes any unexpected air movement that shakes or shifts an airplane while it flies through disturbed air. Turbulence is a common occurrence with planes and in most cases is not serious; however, some types of turbulence can push a plane upward or downward 6,000 feet. When an airplane hits turbulence, it can roll from side to side or bounce up and down. In some cases, turbulence causes the plane to experience a sudden drop.
Causes
There are three different possible causes for airplane turbulence. Thunderstorms are a major source of turbulence, but since large storms can be identified beforehand, this type of turbulence is also usually avoidable. In most cases, pilots try to fly around major thunderstorms that are likely to cause problems such as turbulence. The air patterns around large mountains can also cause turbulence, but most pilots are aware of the danger and avoid the areas most likely to disrupt air patterns when flying over mountain ranges. A third source of turbulence is clear-air turbulence caused by the interaction between the rapid-moving jet stream and slower air patterns around the globe that come in contact with it. This type of turbulence occurs without warning because the jet stream boundary shifts unpredictably.
Concerns
The biggest concern regarding turbulence is the possibility of injury. According to the Federal Aviation Administration (FAA), there were 298 injuries and three fatalities from turbulence on U.S. air carriers between 1980 and 2008. Flight attendants are at higher risk than passengers, both because of the amount of time they spend flying, and the higher likelihood they will not be wearing a seat belt when turbulence strikes. While some passengers worry about turbulence damaging the plane, modern airplanes are built to withstand even extreme turbulence. Turbulence may be uncomfortable or dangerous inside the plane, but it will not cause a plane crash.
Considerations
Wearing your seat belt is the best protection against injuries due to turbulence. The FAA advises keeping your seat belt on during takeoff and landing, as well as whenever the fasten seat belt sign is lit. Weather forecasters use computer imaging to predict where turbulence may occur and warn pilots ahead of time. As this technology improves, the likelihood of experiencing severe turbulence while in flight becomes smaller and smaller.