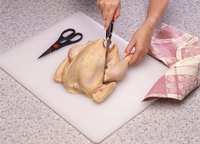 Vector Marketing is a sales company that markets a line of kitchen products under the brand name Cutco Cutlery. Vector Marketing enlists sales representatives from a number of different areas to sell the Cutco Cutlery products to friends, family members and other direct consumers. Sales representatives for Vector Marketing earn salaries based on their success in selling the company's products.
Vector Marketing Salary Information
Most people who work for Vector Marketing are sales representatives. According to Glassdoor, Vector Marketing sales representatives make about $13 an hour, on average. A field sales manager makes a significantly higher salary, at $33.24 an hour, on average. Receptionists at Vector Marketing earn an average hourly rate of about $7.98.
Retail Salesperson Salaries
Vector Marketing sales representatives are classified by the U.S. Bureau of Labor Statistics as retail salespersons. According to the BLS, retail salespersons made a median salary of $9.86 an hour in 2008. Most made between $8.26 and $13.35 an hour. The lowest paid 10 percent made $7.37 an hour or less, while the highest paid 10 percent earned $19.14 an hour or more.
Annual Salary Range
According to the Career Bliss website, sales representatives at Vector Marketing earn an average salary of $30,000 a year. The salary range is between $17,000 and $107,000. The reason the range is so large is because sales representatives work as independent contractors; they can work as much or as little as they want. Those who work more make more money than those who only work part time, or just a few hours here and there.
Considerations
Sales representatives are paid based on how many appointments they make and how much they sell. Representatives are paid an undisclosed amount of money for each appointment they make, regardless of whether the customer buys any Cutco Cutlery products, according to the Vector Marketing's website. If the customer does buy products, then the sales representative receives a commission on top of the base pay for the appointment. The more appointments sales representatives make and the more products they sell, the more money they make.