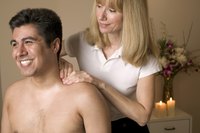 Esthetician instructors help students prepare for state licensing exams and careers as spa managers, beauticians and nail technicians. These professionals work in colleges, cosmetology and esthetician schools, day spas and full-service salons. Esthetician instructors' credentials usually include master esthetician licensure, along with significant experience in the beauty and skin care industries. A July 2011 Indeed report stated that the average salary for esthetician instructors was $37,000 per year.
Function
In addition to teaching the main principles and theories of skin care treatment and enhancement, esthetician instructors teach students about physiology, skin care history, human anatomy and common skin disorders. Since students often pursue careers as entrepreneurs, most esthetician programs include subjects on business ethics, marketing, and sales and retail techniques. However, the primary objective of esthetician instructors is to sufficiently prepare students for their state board examination. Esthetician instructors also create lesson plans, supervise laboratory work and equipment, and conduct live demonstrations.
Geography
Indeed showed that average salaries for esthetician instructors differed based on the state where they worked. For example, esthetician instructors in California averaged $40,000 per year as of July 2011. Esthetician instructors employed in New Jersey reported an average salary of $38,000. In comparison, professionals in Ohio reported an average salary of $35,000 annually. Esthetician instructors working in Texas and Colorado averaged $36,000 and $33,000, respectively.
Benefits
As in other industries, esthetician instructors receive employee benefits in the form of health insurance, vacation time, sick days and tuition reimbursement. A July 2011 SalaryExpert report stated that the median amount for benefits totaled approximately $4,216. However, benefits averaged from as low as $2,898 to as high as $5,932. Average bonuses for esthetician instructors within the 10th to 75th percentile of earners ranged from $1,239 to $2,536. The median bonus for esthetician instructors was $1,803 per year.
Job Outlook
The Bureau of Labor Statistics projects that as consumers seek out more advanced skin care regimens and treatments, jobs for skin care specialists will increase 38 percent during the 2008 to 2018 decade. As a result, esthetician instructors should see increased demand for their skills and expertise in cosmetology and esthetician schools. Instructors with master esthetician training, state licensing and work experience in salons and spas will have the best job opportunities during this time period. Moreover, instructors can increase their salary potential by starting their own businesses or by serving as examiners on state cosmetology boards.