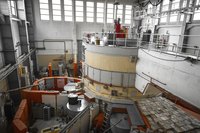 A Naval Nuclear Reactions Engineer is an officer in the U.S. Navy specially trained to design nuclear reactors, develop refueling measures and decommission propulsion plants. During training, Engineers receive salaries based on the Navy's E-6 pay grade. Training program graduates are commissioned as U.S. Naval officers at the O-1 pay grade.
Nuclear Propulsion Officer Candidate Program
In order to become a Naval Reactor Engineer, you must first be accepted into the Nuclear Propulsion Officer Candidate (NUPOC) program. This program includes naval Officer Candidate School (OCS) in addition to specialized nuclear training. This program lasts more than one year, during which time you will earn an E-6 pay grade salary, which paid $2,281 per month or $27,372 per year in 2011.
Naval Reactors Engineer Salary
Upon graduation from the NUPOC program and OCS, you will be commissioned as a naval officer and will receive a salary based on the O-1 pay grade. In 2011, starting pay for this pay grade was $2,783 per month or $33,396 per year.
Bonuses
People selected for the NUPOC program receive a $12,000 bonus in addition to their salary: a signing bonus of $10,000 upon beginning the program and an additional $2,000 bonus upon completion. Time in the program also counts as active duty service, which can lead to salary increases down the road.
Salary Increases
The U.S. Navy incrementally increases salaries for each pay grade based on the number of years you actively serve. Once you have served at least two years, your O-1 pay will increase to $2,898 per month, or $34,080 per year. After 6 years of service, the pay for this grade increases to $3,503 per month, or $42,036 per year. If you are promoted to the O-2 pay grade, you will earn $53,256 per year after 6 years. Likewise, each promotion in pay grade will provide additional pay increases.