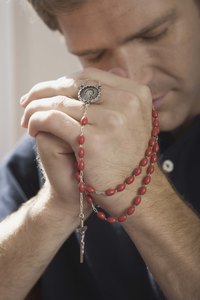 Stemming from the word "Sabbath" or "shabbath," which means rest or cessation in Hebrew, a sabbatical is a hiatus from work for up to a year. Clergy traditionally take a sabbatical during their seventh year of work. Catholic sabbatical grants help Catholic Church leaders have a chance to step away from the pressures of ministry and take time for personal renewal.
Significance
An individual can find the biblical foundation for taking a sabbatical in the first book of the Bible, in Genesis 2, when God rested after creating the universe. In addition to one of the Ten Commandments, the Bible discusses the importance of taking sabbatical in Leviticus 25 when God instructs the Israelites to allow the land to have a year of Sabbath rest for a full year after they sow and harvest crops for six years. Just as a farmer stops tending to a field and rests, a priest must also take the time to rest after tending to his flock by taking a sabbatical. This time of rest gives clergy the chance to grow spiritually, enhance their spiritual formation and have personal time to reflect upon their own lives and ministries. Many Catholic archdioceses have a plan in place to support priests who want to take a sabbatical by dividing the burden among the archdiocese, parish and the priest. Grants can help a diocese afford an interim priest or help a priest supplement his income, which an archdiocese may reduced, during his time of rest.
Benefits
Catholic sabbatical grants help equip clergy with the means to explore their faith and study their Catholic tradition. The opportunities provided by sabbatical grants, according to the Louisville Institute, help priests renew relationships, their vocational identities and pastoral commitments. They give priests the free time to reflect upon their ministry and challenge themselves intellectually, emotionally and even physically. Catholic sabbatical programs offered through grants can also equip priests with new tools to use in their ministries.
Grant Types
A Catholic sabbatical grant can provide a parish with the means to help pay for interim clergy while their priest is on sabbatical or can provide a priest with a stipend to complete a personal project during his time of rest. Some sabbatical grant programs provide priests with room and board at a holistic retreat center that provides trainings on meditation, a life of prayer, spiritual growth and rejuvenation. Grants may have travel or residency requirements, but may help a priest pay for the expenses that come with fulfilling the grand requirements. Some Catholic sabbatical grants may award a priest with money without any conditions or expectations, while others require a priest to show proof of a project he promised to complete, such as the manuscript for a book.
Grant Checklist
The requirements of Catholic sabbatical grants vary by institution and grant type. A priest must provide his personal and contact information, the date of his priesthood or ordination and the pastoral placements since his ordination, including his position, the location of the ministry and the dates he served. He will need to provide information regarding his education background and certifications he holds. In addition, a priest will need to detail his need for a sabbatical, his purpose in applying for a grant and an explanation of what he will accomplish during his time of rest. Some grant applications may ask a priest to provide a list of expected expenses he hopes the grant will cover. A priest may also need an ecclesiastical sponsor to verify the applying priest's status in the Church or provide a letter of recommendation.