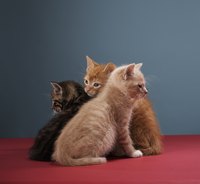 A mother cat may remove her kittens from their nesting site depending upon external factors such as climate, risk of harm, parasite infestation and behavioral instinct. By searching the original nesting site, as well as the new one, you may find indications as to your mother cat's reasoning, and how you may prevent her from moving again.
Safe and Secure
Feral cats hide their kittens to keep them safe, and move them if they believe the hiding place is in danger. It's thought that domestic cat mothers will do the same for their kittens, out of instinct. Newborn kittens are blind, and cannot survive for long on their own. In addition to predators such as coyotes or large birds of prey, tomcats will kill kittens who are not their own, in an attempt to eliminate offspring competition.
Because of this, a mother cat moving her kittens from hiding place to hiding place inside your house may be acting purely out of instinct, despite the absence of these threats. Mama cat will move her kittens by grasping them at the scruff of their neck with her mouth; this does not hurt them, and in fact will calm them.
Bugs Bite
Outside and in the wild, mother cats most likely carry a host of external parasites, such as fleas and ticks. Over time, the fleas on the mother will lay eggs and hatch even more fleas in the nesting site of the kittens. It is possible that she may move her kittens periodically to prevent them from becoming infested with these blood-sucking insects. This may not reduce the amount of fleas that kittens carry, but could be the attempt at adapting to these infestations.
Changing With the Times
Newborn kittens are especially vulnerable to the cold and damp. If the temperature drops or changes at the old nesting spot, a mother cat may move her kittens to a place she thinks is more warm and secure. Additionally, as the kittens age and begin to wean, she may move them from one secure location to a spot more convenient to bringing food. As her kittens grow and adapt, so does the mother's choice in location.
Tag, You're It
There may be one ironic reason your mother cat keeps moving her kittens: because you keep finding them. Although she may not see you as a threat to her babies, constant disturbances to her litter are enough to set off a mother cat's alarm bells. She may be responding to your discoveries by trying even harder to find new hiding places.
Help reassure her by leaving her litter alone for extended amounts of time, keeping an eye on them from afar, or while she's eating or away from her hiding spot. When her anxiety levels are down, she should be more comfortable having you around her kits.
What to Do
Before your mama cat gives birth, set up multiple boxes around the house. Keep a portion of them covered with blankets, towlels or other boxes, and make sure they're warm, clean and inviting. Place them in spots she may be inclined to move toward, such as the kitchen as the kittens age and start to wean. Kittens begin to eat solid food around 5 to 6 weeks of age, and can be moved by you at this time.