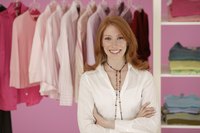 American Eagle Outfitters has more than 900 retail locations throughout the U.S. and Canada including an online store. The brand targets 15- to 25-year-olds and is best known for its low-rise jeans, polo shirts and T-shirts. Managers earn a base salary that may include incentives. New managers earn $20,000 to $30,000. However, a store manager's salary may reach over $70,000.
Assistant Manager
Assistant managers work closely with the assistant store manager to ensure that each store achieves customer satisfaction and productivity goals. An assistant manager earns $34,373 on average but could earn as much as $46,000. An assistant manager also receives a cash bonus commensurate with the performance of his store. According to GlassDoor.com, the average cash bonus totaled $1,237, as of May 2011.
Assistant Store Manager
Assistant store managers provide leadership and guidance to sales associates. Assistant store managers have the responsibility of communicating American Eagle Outfitter's brand, performance and behavior standards. Assistant store managers are also responsible for recruiting, hiring, training and retaining salespeople. Assistant store managers earn on average $33,113; however, the entry-level salary average is $22,000, with a top average pay of $48,000. An assistant store manager's salary also includes a cash bonus.
Store Manager
Store managers earn $45,478 on average. A new store manager earns $30,000 but with experience and a solid track record may earn up to $70,000. Store managers receive cash bonuses including a commission on sales. American Eagle expects its store managers to provide leadership, develop a competent team, recruit and develop personnel and ensure all visual merchandise conforms to the company's branding and marketing strategy. In addition, store managers participate and interact with upper-level management such as the district manager to manage and carry out the store's business plan.
Qualifications
American requires you to have at least have a high school diploma to apply for assistant manager, assistant store manager or store manager position but preferably a college degree. Having a college degree increases your earnings potential, particularly if you hold a degree in a related field, such as retail management or business.