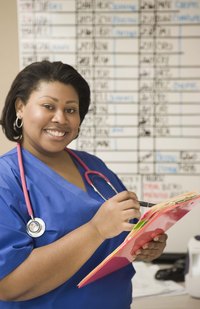 Urology physician assistants help urologists, doctors who specialize in treating conditions related to the urinary tract. Urology physician assistants, similar to other physician assistants, have had extensive training that qualifies them to perform many of the same tasks doctors normally would complete. Subsequently, their pay is excellent, higher than that of most registered nurses and approaching the six-figure mark.
Average Rate
The Bureau of Labor Statistics, perhaps the most definitive wage and salary source in the United States, classes urology physician assistants in the general "Physician Assistants" category. Those in this group earned an average salary of $87,140 per year, or $41.89 per hour, in May 2010. Another source, the American Academy of Physician Assistants, indicates that the average yearly compensation specifically for urology physician assistants was $90,462 per year in 2008.
Range
The Bureau of Labor Statistics reports that physician assistants, including those who work in urology, earned $57,450 per year, or $27.62 per hour, in the 10th percentile in May 2010. In the 25th percentile, earnings averaged $73,040 yearly, or $35.12 per hour. Those at the median made $86,410 per year, the same as $41.54 hourly, while those in the 75th percentile earned $101,690 annually, or $48.89 per hour. In the 90th percentile, physician assistants earned $117,720 per year, the equivalent of $56.60 hourly.
Pay by Sector
Urology physician assistants, like their counterparts in other specialties, may work in different settings. The primary settings in which urology physician assistants are employed include physicians' offices, general medical and surgical hospitals and outpatient care centers. Of these settings, pay was highest for physician assistants in outpatient care centers, where the average yearly compensation in May 2010 was $89,900, according to the BLS. Hospitals had paid the next-highest yearly compensation of $89,310, while physicians' offices provided an average salary of $87,150 per year. The highest pay of any sector, however, was in employment services, where physician assistants earned $104,860 annually.
Comparison With Other Physician Assistants
Based on data from the AAPA and BLS, the average urology physician assistant salary appears to be somewhere between the 50th and 75th percentiles for the entire physician assistant industry, and to be above the national average. The AAPA ranked urology physician assistants 12th out of 32 separate specialties in 2008. The two specialties closest in pay to urology were trauma surgery, which paid an average of $91,417 per year, and general surgery, which paid $90,094 annually.