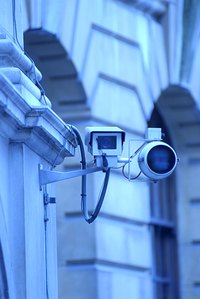 Companies commonly use video and still camera surveillance as a means to discourage employee and customer theft and vandalism. Video and still camera surveillance can also discourage employee misconduct and monitor performance. Federal and state laws regulate the use of recording devices to monitor workplace activities. Employers in West Virginia are subject to several state laws that govern how they may use video and still cameras.
Common Areas
West Virginia law does not prohibit the use of video or still camera surveillance to monitor activities in common areas, such as offices, call centers, retail areas and warehousing and manufacturing areas. Employers may place video or still cameras in these areas to monitor the activities of employees and customers. West Virginia law does not specifically require posted written notification that video or still camera surveillance takes place; however, posting written notice may help prevent employer liability for surveillance conducted in interior offices where employees may reasonably expect privacy.
Prohibited Areas
West Virginia employers may not conduct electronic surveillance in workplace areas other than those generally recognized as common areas. Specifically, West Virginia law prohibits monitoring of areas designated for the personal comfort or health of employees, such as personal storage rooms, restrooms and break areas. Employers cannot use video or still cameras, which are electronic surveillance tools, in these areas.
Audio Surveillance
Although West Virginia law permits video and still camera surveillance, it prohibits wiretapping, a form of surveillance that involves audio recording. Employers should avoid using video cameras that record audio, or, if an employer does use cameras equipped for audio recording, he should disable the audio features. West Virginia law does permit audio recording when one party to the conversation has given consent.
Considerations
Aside from the legal aspects of video or still camera surveillance in West Virginia, employers may encounter employee morale issues when contemplating or implementing surveillance. Employees may feel that video or camera monitoring violates their right to privacy, even if the employer's monitoring activities do not violate West Virginia or federal laws. Employees may also feel that the employer's management does not trust its workers, which may motivate some workers to seek alternate employment.