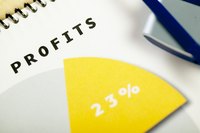 Comparing marketing expenses to sales is a technique most businesses use to determine if they are spending too much or too little on building their brands. Many small businesses make the mistake of not budgeting enough money for marketing costs, and it can be a fatal error. Author and marketing veteran Scott Margenau says new entries in the marketplace need to be more aggressive with their marketing spend to gain market share. Set your sales goals, put a marketing budget in place to support them and measure your success along the way by comparing expenses to sales.
Function
A marketing expense to sales analysis helps companies determine the effectiveness of their current marketing spend, ensure that they are not overspending to achieve sales goals and set future budgets and growth goals. Although the analysis is a bit more complicated, the basic calculation is total marketing expenses divided by gross sales.
Marketing Expenses
Before you can begin an analysis of marketing expense to sales revenue, you need to determine what to include as marketing expenses. Some companies only include traditional marketing expenses, such as promotional spend, advertising and consumer and market research, while others consider sales administration and other overhead as part of the figure. The reason for doing the analysis should dictate what you include in the figure. If you are using this analysis to determine profitability, you should use the total cost of goods sold instead of just straight marketing expense, for example.
Typical Ratios
Although the U.S. Small Business Administration puts typical marketing-to-sales ratios in the 2 to 5 percent range, they are often higher. When launching a new product, consumer packaged goods companies often spend as much as 50 percent of projected revenue on marketing, while pharmaceutical companies normally spend in the 20 percent range. You should not look to these numbers to set your own sales goals and marketing budgets, however. Always set budgets based on your company's current situation and what you want it to achieve.
Factors Influencing Ratios
The age of your company should play a large role in your marketing-expense-to-sales ratio. The marketing expenses for a startup company should be much larger than those of a company with established brands and may even exceed projected first-year revenues. If your company sells a product or service that is relatively obscure, your marketing budgets should reflect promotion and advertising costs as well as education, and if your brand is in a highly competitive market, expect your marketing costs to be higher.