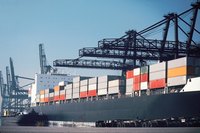 Export agents are classified by the Bureau of Labor Statistics as cargo-and-freight agents, and their roles are described as entry-level positions. Export agents work for and with transportation companies on outgoing shipments in various environments, including train, airline, trucking and shipping terminals and docks. They track shipments, cargo manifests, contents, weights, dates and destinations of shipments, and record missing and damaged cargo. Agents must have a working knowledge of shipping rates and charges, customs rules and procedures, and act as liaisons between clients and shipping companies.
Earnings
The BLS reports that export agents earned a wide range of hourly wages in 2008, from a low of almost $11 to a high of $28. Median hourly 2008 wages in industries with the largest numbers of export agents ranged from just over $11 to $18. As of May 2010, export agent median hourly wages were almost $18. Industries with the highest levels of export agents include freight transportation, air transportation, couriers, express-delivery services and general-freight trucking. Hourly wages for export agents in these industries range from $13 to $19. The industries that pay the most for export agents include water transportation, federal executive branch, rail transportation and specialized freight trucking, with wages from $22 to $27.
Employment Outlook
Employment prospects for cargo and freight agents are very good and expected to grow much faster than average. Job growth for export agents is expected to increase by 24 percent between 2008 and 2018, with demands for online shopping and same-day delivery driving opportunities. The BLS cautions that while job prospects for this occupation are good, they are also sensitive to economic ebbs and flows.
Top-Paying Areas
As of 2010, the top-paying states for cargo and freight agents were Connecticut, Wyoming, Washington, Massachusetts and Nebraska. The top-paying metropolitan areas for this occupation in 2010 were Bridgeport-Stamford-Norwalk, Connecticut; Lowell-Billerica-Chelmsford, Massachusetts; Brunswick, Georgia; and Tacoma, Washington.
Required Competencies
A high school diploma and on-the-job training through successive levels of increasing responsibility are the normal preparation. Export agents work with transportation documents, computers and labels and packaging, and they must be good communicators and be detail oriented. Much of their work involves talking on the phone, and gathering and providing information. Clerical skills including typing and data entry, record keeping, filing and general organizational skills are also required.