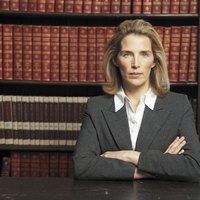 Child advocate lawyers protect the rights of underage clients in a variety of legal disputes. While they can work for a wide range of employers and must undergo the same rigorous training and education as other lawyers, child advocate lawyers are compensated at much lower rates than those in private practice.
Education and Training
While most law schools will admit applicants with any bachelor's degree, child advocate lawyers may find it helpful to choose a relevant undergraduate area of study such as child development, counseling, criminology, criminal justice, political science, psychology, public administration, social work or sociology. While completing a legal degree at an accredited law school, child advocate lawyers should focus on administrative, criminal and family law. Finally, they must pass the American Bar Association examination for the state or district in which they wish to practice. Additionally, experience in the nonprofit and public child and family services sector may be helpful, since child advocate lawyers will be expected to interact with these agencies constantly.
Duties and Responsibilities
Child advocate lawyers specialize in cases involving child abuse, child neglect, child protective services, child support establishment and enforcement, child welfare, domestic violence, paternity testing, sexual abuse, spousal obligations and termination of parental rights. These professionals may also provide outreach opportunities in order to inform the public about child welfare issues. Finally, child advocate lawyers enforce compliance with federal statutory and regulatory policies and offer training sessions to mandatory reporters of child abuse, such as nurses, doctors and teachers.
Employers
Child advocate lawyers can work in a variety of settings, including adoptive and foster care agencies, global humanitarian agencies, guardian ad litem programs, legal aid groups, nonprofit child welfare agencies, public defenders' offices, schools, state child welfare agencies and women's shelters.
Compensation
According to Wired Kids, child advocate lawyers earn an average annual salary of only $33,737 per year, while lawyers in private practice earn $200,000. However, child advocate lawyers may have higher earning ceilings than this suggests; for example, a child advocate attorney in West Virginia has an annual salary range of $44,244 to $81,852. According to the U.S. Department of Labor's Bureau of Labor Statistics, lawyers employed by state governments -- the largest employer of child advocate lawyers -- earn a mean hourly wage of $39.51, or $82,190 per year.