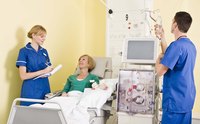 Clinical hemodialysis technicians, sometimes referred to as patient care technicians (PCTs), are healthcare technicians who are trained to care for patients with End Stage Renal Disease. These technicians typically operate hemodialysis machines under the supervision of a nephrology nurse. The Centers for Medicare and Medicaid Services regulations require all clinical hemodialysis technicians to be certified with 18 months of hire. Wages for certified clinical hemodialysis techs may vary based on the part of the country where they work.
National Wages
The U.S. Department of Labor's Bureau of Labor Statistics (BLS) classifies dialysis technicians with the broader Health Technologists and Technicians, All Other occupational category. The mean hourly wage for certified clinical dialysis technicians was $20.31 as of May 2010, according to the BLS. The top 10 percent earned annual wages in excess of $64,560 while the bottom 10 percent earned less than $25,590 per year. The middle 50 percent earned between $30,860 and $50,970 per year.
Regional Wages
The annual salary for a certified clinical dialysis technician may vary significantly based on the state where she works. Techs who worked in Arkansas earned the lowest median annual wages among the states at $26,520 as of May 2010, according to the BLS. Certified clinical dialysis technicians who worked in Tennessee earned the highest median annual salaries in the nation at $56,950. A tech who worked in California earned median wages of $41,300 while her counterpart in North Carolina earned $34,840.
Local Wages
Salaries for certified clinical dialysis technicians can be impacted by the local economy even within a state's borders. Techs who worked in the Birmingham-Hoover, Alabama metropolitan area earned median annual wages of $37,310 while those who worked in Huntsville, Alabama earned $29,430 as of May 2010, according to the BLS. Denver, Colorado-based certified clinical dialysis technicians earned median wages of $41,890 while those who worked in Colorado Springs earned $30,650.
Considerations
The Centers for Medicare & Medicaid Services' End Stage Renal Disease rules require patient care dialysis technicians to be certified through either a commercially available national certification program or through a state certification program. The Nephrology Nursing Certification Commission provides testing for the Certified Clinical Hemodialysis Technician credential to candidates who are at least 18 years of age, who have graduated high school or hold an educational equivalency certificate and who have completed an approved training program that includes both classroom instruction and clinical experience.