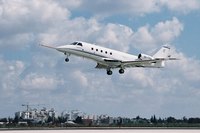 Gulfstream Aerospace Corporation manufacturers the G150, which is a mid-sized business jet flown by a lead pilot and a first officer. With a typical four-person passenger payload, the G150 has a range of 3,000 nautical miles. Certain factors determine the salary of a G150 pilot, including job experience, the general pay scale of the pilot's employer, and whether the pilot occupies the left or right seat in the cockpit.
Business Aviation
Unlike commercial airlines, business jets are owned by individuals, private businesses or public corporations. Fleets may comprise of one or more aircraft and can include a mix ranging from helicopters to fixed-wing turbines or propeller aircraft, according to the National Business Aviation Association. The NBAA promotes the interests of aviation companies.
Pay Scale
G150 pilot salaries are determined by each company. That information is usually not published, making it impossible to accurately offer salary averages, which can vary based on aircraft type, hours flown, pilot experience and other factors. One company, AvCrew.com, collects information from participants about salary and sells that data to interested parties. Among the categories offered is "salary by title, aircraft class & type operations," which might give a fair average for G150 pilots.
NetJets Pay - Captain
NetJets is an operator of business aviation fleets scattered across America and around the world. This company publishes its pilot pay information for public review. Under its 2007 NetJets Aviation Pilot Agreement, the company categorizes pilot pay scales by the weight of the aircraft. With a maximum takeoff weight of 26,100 pounds, the G150 falls under NetJets pay scale for jets weighing 40,000 pounds or less. A G150 captain in his first year with the company would make $87,500 annually with NetJets's 7 days on, 7 days off work schedule. Working a 15-day flex schedule, a first-year captain would earn $96,250, but would earn $106,444 if she worked an 18-day flex schedule. Top captain pay for all three schedules is $136,846, $150,531 and $166,473 respectively for the 14th year, with 4 percent longevity bonuses paid for each year after that.
NetJets Pay -- First Officer
NetJets first officers, who occupy the right seat of the aircraft, earn $56,875 in the first year when they are flying a G150 business jet and working a 7-day on, 7-day off schedule. With a 15-day flex schedule, pay is $62,563, rising to $69,188 with the company's 18-day flex schedule. Top pay in all three categories is $81,081, $89,189 and $98,635 respectively for the 10th year. A 4 percent longevity bonus is paid for each year after that.