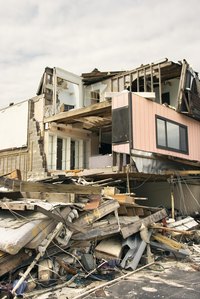 Federal Emergency Management Agency money does not count as income. The funds are grants issued by the U.S. government to disaster victims and do not have to be repaid. Recipients do not have to pay taxes on the money. It also does not affect retirement benefits, Social Security, Medicare or welfare.
Purpose
FEMA money is given to the victims of disasters such as hurricanes, tornadoes, fires and floods. Its purpose is to help individuals, families and businesses recover and rebuild. The costs of getting homes, communities and lives back together can be enormous. The first concern is for people to be safe. After this, resources like homes, schools, roads and government agencies need to be rebuilt. For homeowners, the money is intended for people to clean up, dry out and rebuild their houses.
Qualifications
To qualify, individuals, families and businesses must have incurred losses in an area that was declared a disaster by the federal government. Before applying for assistance, they must file a claim with their insurance company. They can still receive FEMA if their claim is delayed, if the settlement is insufficient to meet their needs or if they cannot find rental resources. FEMA provides assistance for housing needs and non housing needs, such as medical expenses, clothing, vehicles and funeral expenses.
Legitimate Expenses
The money is not taxable, but it can only be applied toward certain expenses. People can use it for temporary housing. It covers house repairs needed to make homes safe, sanitary and functional. The money also can be used to completely replace the home if it is not salvageable. People can buy a new home or have one built. Usually, they are only allowed money for a new construction in very remote locations where no homes are available for purchase.
Considerations
If anyone misuses FEMA money, they will not be eligible for more help and may have to repay the money. However, it is still not treated as income. People have 18 months to use it from the date the President declares the disaster. The money is not counted as income or a resource in determining eligibility for welfare or income assistance from the federal government. It can not be garnished or seized. Grants cannot be given to another person. Recipients must keep all receipts for three years to account for how the money was used.