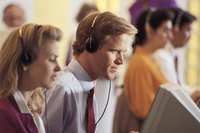 The LiveOps corporate headquarters is in Santa Clara, California, but the company does contract with agents across the United States. LiveOps is a virtual call center, and like other work-at-home companies, they must adhere to any state and national laws that govern conducting business, with both contractors and customers, across state lines. If you are familiar with applying for work-at-home jobs, you might have encountered situations when you find out that a company does not hire in your state. In the case of LiveOps, however, they make it very clear from which states they are currently contracting with virtual agents.
Hiring States
LiveOps hires independent contractors in the 48 contiguous United States of America, according to the company's "FAQ" Web page at the time of publication. That means that they are not currently contracting with candidates in Hawaii, Alaska and other U.S. territories and possessions. LiveOps does not contract with Canada's residents either.
Specific Agent Needs
LiveOps is a large virtual call center, contracting with thousands of agents. The company has subdivisions within this pool of agents. Hiring decisions are sometimes dependent on specific needs for agents in a state or region. One example is that LiveOps provides sales support for life and health insurance products. Many states require that agents have a license to sell insurance to local residents. Contractor hiring needs, such as in the case of the regulated insurance industry, might mean that LiveOps is only hiring in a few states for a specific client or account.
Utility and Service Limitations
Telephone and Internet service are two of the essential technical requirements before you can contract with LiveOps. Most landline telephone services are appropriate to take phone calls for LiveOps. However, some fairly modern neighborhoods and apartment complexes offer only "digital" telephone service, and LiveOps limits contractors to three companies: AT&T Uverse, Verizon FIOS and Comcast Digital Voice. Many people are ditching traditional home phones and switching to VoIP, cellular and satellite phones -- all not supported by LiveOps. Also, high-speed broadband Internet is required; dial-up and wireless are prohibited.
Litigation
LiveOps overcame a legal challenge to their use of independent contractors in December 2008. The plaintiffs alleged that as many as 30,000 contractors should have been classified as employees instead. The United States District Court, Northern District of Georgia, Atlanta Division, ruled in favor of LiveOps. In these cases, where district or state courts get involved, a company such as LiveOps might have hiring limitations to meet the restrictions of a judgment or settlement. However, this is not the case at the time of publication because LiveOps hires in all 48 states, including Georgia.