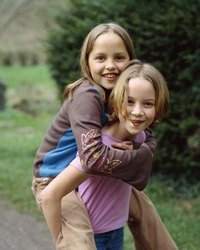 Unpaid child support often aggravates custodial parents who must care for children even though an ex-spouse fails to meet court-mandated child support obligations. When an ex-spouse receives Supplemental Security Income, or SSI, the child support impact varies based on the situation. One potential impact is that the non-custodial parent will receive SSI back pay to cover the period of time he didn't receive benefits but still had his disability. If an ex-spouse receives SSI back pay, you might benefit in terms of unpaid child support.
Child Support Order
If someone owes back child support, that individual has a legal obligation to pay it. This applies even if the person no longer works or is no longer required to pay child support. A judge can alter a child support order, but the judge cannot erase back child support debt in most states. You are entitled to child support for any period when your ex-spouse has a child support order requiring payment of child support. You are not entitled to child support for any period when a child support order isn't in effect. A new child support order does not affect the past. You cannot establish a child support order in 2011 and ask that your ex-spouse pay child support for 2010. This applies even if your ex-spouse receives back pay from an employer or through SSI.
SSI Benefits
If an ex-spouse receives SSI, it pays benefits to both custodial and non-custodial children, and it takes the burden for child support off the non-custodial parent. Your ex-spouse does not have to pay child support during this period. Although it affects future child support obligations, receiving SSI does not have any effect on unpaid child support. Your ex-spouse remains indebted for any unpaid child support.
SSI Back Pay
SSI back pay provides an individual with financial benefits for a period of time before ge starts to receive SSI benefits. If your ex-spouse applies for SSI benefits, he can also apply for benefits for his children. If the ex-spouse receives SSI back pay, the children listed on the application also receive benefits. These benefits reduce the amount of unpaid child support the ex-spouse owes, but it does not eliminate all of the debt if the ex-spouse failed to pay child support for a period not covered by the SSI back pay.
Seizure of Funds
If an individual owes back child support, a court can call for seizure of any income the individual receives. This includes SSI benefits and SSI back pay benefits for your ex-spouse. If your ex-spouse is not making payments on the back child support, you should petition the court for a review of your ex-spouse's financial situation. At the ensuing child support order review hearing, you should provide as much proof as possible that your ex-spouse received SSI back pay. This will put the burden on your ex-spouse to provide details of his SSI back pay benefits. The court can demand immediate payment of child support arrears based on the change in financial situation resulting from the SSI back pay. If you act before your ex-spouse receives back pay, the court can seize this government payment and apply it toward the unpaid child support.