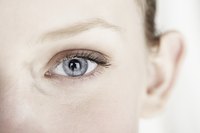 Vitreoretinal surgeons perform a specialized type of eye surgery that can take a couple of years of training to master. During training, they do not typically earn a very high salary, but after they complete their training, they often make well over $200,000 a year.
What it is
The vitreous is what might be considered the egg white of the eye. It is attached to the retinal blood vessels, the optic nerve and the macula, which is one of the smallest parts of the retina. Retinal detachment from the back wall of the eye caused by vitreous fluid getting between the retina and the wall can cause vision problems, and infections of this part of the eye may also occur. Vitreoretinal surgery typically addresses problems associated with this type of eye disorder.
Salary in Training
Vitreoretinal surgeons in training earn low salaries compared to those who have graduated from a training program. For example, the salary of a first-year trainee at the University of Pennsylvania was $50,836 in 2007 and $52,437 for second-year trainees.
Academic
Vitroretinal surgeons working at an academic medical center earned a median salary of $284,000, according to the Compensation Report of the Association of University Professors of Ophthalmology from February 2007.
Overall
The overall salary for a vitreoretinal surgeon was $452,648, according to the 2007 Medical Group Management Association's Physician Compensation and Production Survey. A job listing on the American Society of Retina Specialists website offered a minimum salary of $250,000 for a first-year vitreoretinal surgeon at the Spokane Eye Clinic in Washington. With other compensation, the entire first-year salary for a vitreoretinal surgeon at the clinic was valued at over $350,000 as of July 2011.