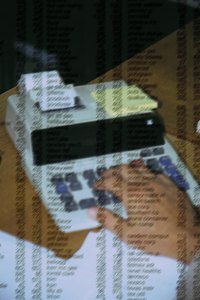 Accounting deals with the financial records of a business, individual or family. Although most types of accounting involve the same financial aspects, there are many different specialties such as government accounting or medical accounting. Several distinct differences in medical accounting set it apart from traditional accounting.
Traditional Accounting
Traditional accounting encompasses a variety of tasks and roles carried out by individuals referred to as financial recordkeepers by the Bureau of Labor Statistics. Traditional accountants are typically licensed as certified public accountants (CPAs). An accountant works with businesses of all sizes and industries and may provide annual tax-preparation assistance as the primary accounting service. Other accounting firms provide ongoing support to include maintenance of accounting records, organizations of receipts and processing of payroll and accounts payable and receivable.
Medical Accounting
Medical accounting involves many of the same aspects as traditional accounting, such as organizing payroll and taxes, reconciling accounts receivable and payable and providing business owners and managers with a yearly or quarterly profit and loss statement. Medical accounting also involves some additional components due to the specific requirements of the health-care industry. Medical offices may be subject to audits and examinations by state health officials as well as both health insurance and medical practice liability insurance providers. A qualified medical accounting specialist can prepare all the necessary documentation and reports needed for audits.
Additional Factors in Medical Accounting
Other differences in medical accounting involve specific requirements in recordkeeping. The medical industry uses a process of medical billing and coding to convert patient and billing information into alphanumeric medical code. Medical accountants may need to be familiar with this type of billing system in order to properly translate billing documents during the accounting process. Additionally, medical records are subject to privacy laws invoked by the Health Insurance Portability and Accountability Act (HIPAA), and medical accountants must comply with these regulations when handling medical records.
Other Types of Medical Accounting
Although there are private accounting firms and licensed accountants that provide medical accounting services to multiple businesses, some medical accountants work directly for the medical office, hospital or insurance company. Medical accountants working within a health-care or insurance facility maintain the organization's financial records on a daily basis and typically hold a degree in accounting or health-care administration.