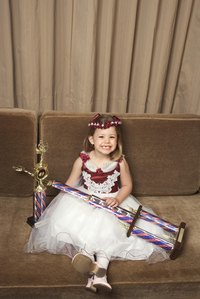 Besides cash prizes, beauty pageant contestants have the opportunity to earn scholarship money towards college. Scholarships may be awarded based on several different criteria, including beauty, academic merit and talent. National competitions have larger prizes, but local and state pageants have a smaller pool of contestants. Entrance fees are required to participate in pageants, and you typically must provide your own wardrobe pieces.
Miss America's Outstanding Teen
To receive a scholarship through this organization, you must enter a Miss America's Outstanding Teen pageant. Ages 12 to 18 are eligible to enter the competition and must be a U.S. citizen. Contestants are judged on beauty, poise, academics and talent. National and state winners are eligible for scholarship prizes.
Miss Teenage California Scholarship Pageant
The winner of this pageant receives $10,000, as of 2011, to attend the school of her choice. Additional prizes include $500 cash, paid entry to the national competition and $500 towards wardrobe expenses. Most photogenic and most likely to succeed receive a $1,000 scholarship each. Contestants are judged on academic and extracurricular achievements, personality and the appearance in formal wear. No swimsuit or talent portion is required. Teens living in California who are over the age of 12 can participate in the scholarship pageant.
Universal Royalty Beauty Pageant
Winners of this beauty pageant can receive anywhere from $2,000 to $10,000 towards college. Categories judged include formal wear, facial beauty, talent, wardrobe and talent. Babies, children and teens are all eligible to participate in the pageant. Pageants are held statewide and nationally.
American Junior Miss
The beauty pageant awards scholarships through their Distinguished Young Women fund. Participants must compete in the following categories: scholastics, interview, talent and fitness. Local winners advance to state competitions while state winners compete in the national pageant. Award amounts range from $1,000 to $40,000 for the top prize winner.