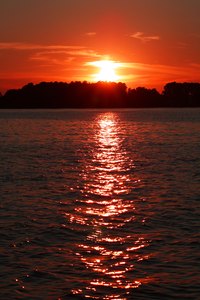 St. Michael's, Maryland, is known for its abundance of freshly caught Chesapeake Bay seafood, especially its oysters. Leisurely days on beaches a short distance away complement the boating and fishing available in this waterfront town.
East Coast
The secluded beaches of eastern Chesapeake Bay are a few minutes south of St. Michael's by car. You can bike to the town of Oxford, 7 miles away, in one hour. Beaches in Oxford are free to the public, but there are no lifeguards on duty. Chesapeake Living recommends the small beach near Oxford's city park, where kids can frolic on the playground and picnic benches are perfect for enjoying sandwiches purchased from the shops across the street. A larger beach is along the Tred Avon River, near the Oxford Ferry. The Washington Post praises this beach's amount of wading room for families with children, as the shallow water extends 50 yards from shore. Shops and food are located nearby. The beach does not have its own facilities or parking.
West Coast
Directly across Chesapeake Bay from St. Michael's lies Breezy Point Beach and Campground in Calvert County, Maryland. It's a two-hour drive northwest over the Chesapeake Bay Bridge. You can spend the day exploring the half-mile stretch of sand, swimming, fishing for crabs or playing volleyball. The on-site playground, concession stand and picnic areas cater to families with children. Charcoal grills are available if you want to cook lunch. Admission is charged for use of the beach and facilities such as bathhouses with shower rooms. Keep in mind that prices are cheaper in the off-season than they are from Memorial Day through Labor Day.
Maryland Coast
Ocean City boasts 10 miles of free public beach along the Atlantic coastline, a two-hour drive from St. Michael's. The 3-mile-long boardwalk was named a top 10 U.S. boardwalks by National Geographic. Visitors can choose from plenty of entertaining seaside activities, including the walkway's array of vintage amusement park rides. During the summer, lifeguards and a beach patrol monitor the waterfront, which has designated areas for swimming and surfing. Pets are welcome and fishing is allowed in certain spots. Horseback riding is allowed on the beach during the off-season. Handicapped public restrooms are available and beach wheelchairs can be obtained from Memorial Day through Labor Day.
Delaware Coast
Rehoboth Beach, Delaware, is just over an hour's drive from St. Michael's. Boasting a mile-long boardwalk -- which includes two kid-friendly theaters, space for kite flying and sandcastle contests -- Rehoboth Beach has many options for keeping the entire family busy. A bit further south, Dewey Beach offers the choice of two waterfronts: the Atlantic Ocean or Rehoboth Bay. Both sides of Dewey Beach are known throughout the area for water activities such as skim boarding. Rehoboth Beach and Dewey Beach are free to the public; a shuttle system makes it easy to travel between both beaches.