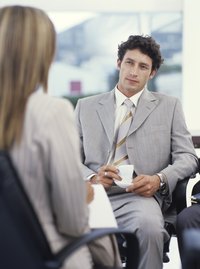 Power-based negotiations are based on threats and assertion of rights and are typically confrontational. Most negotiations involve some level of power-based negotiation, whether overtly or implied. Typically, the exercise of the power option is a last-resort exercise, but it can be highly effective.
Covertly
Power-based negotiations are typically less than overt. Both parties are generally aware of the power the other one holds. The use of that power is often implied and subtle. Alluding to one's power covertly can send a strong signal to the other party. For example, if a buyer is refusing an item, the supplier may remark in passing, "Our lawyer is on retainer and so we don't mind using him for every little thing." This sends a clear threat of legal action to the other party without overtly stating it. The other party should get the message loud and clear.
Overtly
Overt power displays are often displayed in sales negotiations. They can quickly be used to diffuse a situation, state a position or deepen the seriousness of a negotiation. For example, a person buying a used car may remark to the sales staff; "I'm a mechanic, I know this car will need $500 of service in the next year. The Blue Book Value of the car is $8,000, that is $1,000 less than what you are asking. Either you sell me this car for what it is worth, $7,500, or I will go to one of the other dozens of dealers selling this car and ask them." The buyer has exercised his power overtly and by putting all his cards on the table has sped up the negotiation to a decision point for the seller.
Role Play
Power can also be hidden. Some of the best negotiating strategies are those when the other party perceives you as weak, when in fact you hold much of the power. Giving the other party the power may allow you to get a better deal. For example, rather than letting the other party know your position you adopt a fake position to gain information. An example of this would be a rich person dressing poorly and faking a poor financial position in order to secure a better deal.
Final Solution or Response.
Power can also be used as a final solution to a problem. It can be saved and demonstrated only when necessary. For example, if a union is negotiating with management, it may threaten to strike as a display of its power. The management may respond with an extreme solution that nullifies the threat, such as stating that the management will move operations to another city, as in the long run it would be less costly than giving in to the union's demands. Management, in this case, chose to save the display of ultimate power until the end of the negotiation and used it only in response to a threat.