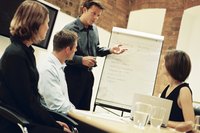 Companies send out request for proposals (RFPs) to vendors to assess which products and services best fit for their needs and budget. Proposal managers manage the RFP process, from writing the content to tracking how often proposals are selected by organizations. Average salaries for proposal managers fluctuate greatly depending on factors such as location and experience level.
Function and Average Salary
The average salary for proposal managers was $65,000 according to a July 2011 SimplyHired report. While some proposal managers handle bids for government contracts through entities such as the General Services Administration (GSA), others prepare proposals for organizations that give grants to nonprofit organizations. Proposal managers in private industry identify staff and monetary resources needed to respond to business opportunities quickly and efficiently. They supervise members of the proposal team and oversee research, writing, formatting and editing duties. Proposal managers also update databases with proposal information, contract descriptions and proposal outcomes.
Geography
Average salaries fluctuated greatly across different regions according to a July 2011 SalaryExpert report. Whereas Orlando proposal managers reported an average salary of $36,127, Los Angeles professionals averaged annual wages at $87,543 per year. In Miami, proposal managers averaged $42,052 annually. Houston and Chicago proposal managers averaged $36,189 and $47,002 respectively. Proposal managers working in Dallas averaged $46,824 per year. Professionals working in New York City's Manhattan borough averaged $76,336 annually.
Experience Level
SalaryExpert also showed that average salaries for proposal managers increased steadily as they gained more work experience. Entry-level professionals received an average salary of $47,000 per year. Proposal managers with one to four years of experience average $56,710 per year. Workers with five to nine years of experience average annual wages totaling $78,000 per year. The average salary for proposal managers with more than 10 years of work experience fell between $93,600 and $112,320 annually.
Job Outlook
The job outlook for proposal managers varies based on industry and specialty. However, the BLS' "Occupational Outlook Handbook, 2010-11 Edition" predicts writer and editor jobs will increase 8 percent between 2008 and 2018. Job opportunities for proposal writers will be available in nonprofit organizations and associations that rely on grants to fund their initiatives. Proposal managers will also be needed in public relations firms, advertising agencies and corporations. Sales representative jobs, which include professionals who write proposals, will increase 7 percent during this time period. Businesses looking to offset costs and increase productivity will seek professionals with strong personal selling, project management and writing skills to oversee the development of proposals.