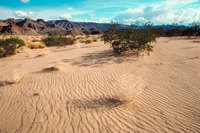 The desert region of California encompasses the southeastern portion of the state, from Death Valley at the northern end to Anza-Borrego Desert State Park at the southern end. This area includes the Mojave Desert region, Yucca Valley and Palm Springs. High temperatures and arid land dominate the desert landscape, so there are few bodies of water available for swimming. Although there are many "lakes," most of them are dry.
The Salton Sea
This is an inland, salt-water lake located in the Sonoran Desert Region of Southern California. The best place to take the kids is the Salton Sea Recreation Area on the Northeastern shores of the sea. Palm Springs is 30 miles north and the sea borders the Anza-Borrego State Park. Families will enjoy boating, swimming, skiing and bird watching. Beach camping is available at Bombay Beach, Salt Creek Beach and Mecca Beach campgrounds.

Mojave Narrows Regional Park
Mojave Narrows Regional Park is located in Victorville on the Mojave River at the edge of the Mojave Desert. Cottonwood trees and open pastureland give it a nice atmosphere compared to the surrounding desert. Boating and fishing are allowed on the two lakes. However, to swim, to head to Shady Oasis Campground, where kids can enjoy a pool and playground.
Diaz Lake
Diaz Lake is located in Inyo County, three miles South of the town of Lone Pine. It is considered one of the lakes of the Mojave Desert, and is one of few that is not completely dry. Diaz lake is bordered by the scenic landscape of the Inyo mountains and nearby vistas offer a nice view of Mount Whitney. Kids will enjoy swimming, fishing, boating, camping and a playground. Family-friendly areas are available with fire pits and flush toilets.
Death Valley
Death Valley National Park, one of the hottest places in the country, can average temperatures of 120 degrees Fahrenheit and higher during the peak summer months. Even though there is snow during winter months on the peak surrounding the valley, this snow rarely melts to form bodies of water one can swim in. That being said, there are two spring-fed swimming pools at Furnace Creek Ranch Resort that are great for kids. You can buy a pass for the pool without being a guest of the resort.