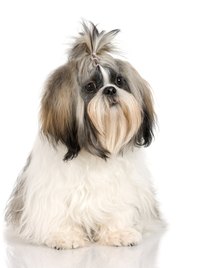 Those who love dogs but don't love piles of fur left all over their homes may appreciate a low-dander dog. Whether you're allergic to most canines but can't help yourself from adding one to your family, or you simply don't like the cleanup associated with shedding, a low-dander dog can fit your needs and fill your home with the warmth and love only a pet can provide.
Shih Tzu
Shih Tzus, petite dogs known for energy and friendliness, are a wonderful option for anyone seeking a low-dander family-friendly pet. Along with providing the benefits of low-dander, a Shih Tzu learns quickly and provides great companionship. They can, however, prove difficult to housebreak.
Chinese Crested
The Chinese Crested is a decidedly different-looking dog that fits perfectly into a household seeking a low-dander four-legged friend. These nearly hairless animals are believed to have come from African hairless dogs that were put onboard Chinese ships as a way to stop vermin from spreading illness. Because the Chinese Crested has so much exposed skin, it is prone to sunburn.
Greyhound
The lean and lanky greyhound is a striking choice for those seeking a low-dander dog. This short-hair is mainly known for speed, serving as the breed of choice for racing enthusiasts. Because of their long and bony appendages, greyhounds cannot stand up to some of the rough-and-tumble play other breeds tolerate. But they do traditionally get along well with other pets and typically serve as a good addition to a home already containing a few furry friends.
Havanese
At first glance, the long-haired national dog of Cuba appears an unlikely candidate for acceptance into a household seeking a low-dander option. Despite their luxurious coats, however, Havanese shed very little. These soft-coated creatures may require regular grooming but won't leave your sofa covered with fur -- nor will they leave allergy suffers coughing and sneezing.
Basenji
Not only does the basenji shed little fur, it is also known as the barkless dog. Instead of the harsh bark dogs typically let out when excited, basenjis produce only a small sound akin to a yodel. With a history that dates back to Egyptian pharaohs, the basenji is first thought to have come to America in 1941. Because the breed tends to be more aloof other low-dander varieties, it may be a better choice for those seeking a companion without wanting a dog under foot at all times.