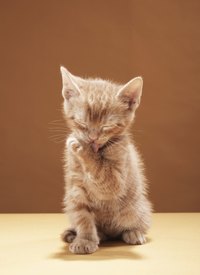 Kittens and cats sharpen their nails on most anything they can get their paws on, including furniture. These sharp claws are ready to help them get out of situations where they may be in danger, and help them to hunt prey. These often razor sharp nails can also scratch humans during play times. You can clip your kitten's nails to deter the kitten from causing damage.
Six to Seven Weeks
Kittens can have their claws clipped when they are around six to seven weeks old. By this time, the kitten's claws will probably be razor sharp, and the kitten may have a tendency to inadvertently scratch its human owners when they are playing together. At six weeks of age, it can easily climb furniture and curtains, causing damage to your property in the process. Even your good wood furniture can sustain some damage from the kitten's curiosity and clawing habit. Get the kitten used to being held and having its feet handled when you first start holding it, around two weeks of age. Generally, kittens and cats don't enjoy being held down and having their feet manipulated. If you touch the feet, and press on the toes to expose the nails at a young age, the kitten will be used to this maneuver, and when you are ready to clip its nails for the first time, you will have a better chance at getting some cooperation from the kitten.
Kinds of Clippers
Several types of nail clippers help you trim your kitten's nails. The guillotine type is standard for cutting most pet's nails. When you press on the handles, a cutting blade slides across a ring that remains stationary. The pet's nail is placed into the guillotine, and the handles are squeezed, cutting off the nail. The scissors cutter is handy for nails that have grown so long that they are becoming embedded into the skin, making it impossible to slide the guillotine-type cutters. Alternately, a human nail clipper cuts a kitten's small, delicate nails with ease, and can be used until its nails become too large for it. An interesting alternative to nail clippers is an electric emery board for pets. These devices calm the nerves of owners who are afraid to clip their pet's nails for fear of accidentally clipping the quick in the nail and causing pain to the pet. An emery board rotates on a hand-held device, which is held against the nails, cutting the nails slowly and gently. This is not a good choice for a kitten, though, because it is loud and takes too long.
How to Trim Nails
Cats and dogs have nails with a quick in them. This is the blood running to the nail, and is usually visible as the pink part of the nail closest to the paw. If this is cut, it will bleed and cause pain to the kitten. The person cutting the kitten's nails for the first time should cut off a small amount, about 1/32" (1 mm), between the nail tip and the quick. Hold the kitten on its side, across your lap. Hold its head down with your right forearm, and its bottom half down with your left forearm. Hold the clippers in your right hand. Grasp the paw in your left hand and press down on the paw at the base of one nail, and push forward. This will extract the retractable claws so you can then clip one. At the first clipping, clip one paw at a time, allowing the kitten to take breaks in between.
Clawing
Kittens naturally claw at things. This sharpens their claws and removes the dead pieces of toenails. To avoid ruined furniture, provide the kitten with things it is allowed to scratch on, such as a scratching post. This is basically a carpet-covered pole. Also, most pet stores carry a corrugated cardboard flat surface that entices the cat to scratch on it.