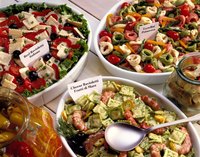 Salads at fast-food places and restaurants are likely to contain preservatives, particularly if they are part of buffet or are likely to be on display for long periods of time. Their function is to stop the salads from turning rancid due to the growth of bacteria or mold, and extend their shelf life. If you're avoiding preservatives, try to steer clear from salads that have been left out on the counter all day, particularly if they contain mayonnaise, as the raw eggs can spoil. Choose freshly made salad instead whenever possible.
Benzoic Acid
Benzoic acid is used as a preservative in salads that have mayonnaise or salad dressing. It prevents the growth of fungus as well as certain bacteria. The chemical was first discovered in the 16th century, and it is used widely as a preservative because it is cheap to prepare.
Sorbic Acid
Sorbic acid prevents mold, fungus and bacteria from growing on food, however it does not kill mold or bacteria that has already formed. It is often added to salad dressings to preserve salad ingredients. Sorbic acid occurs naturally in certain fruits. It was first chemically synthesized in 1895.
Propionic Acid
This substance is used as a preservative in mayonnaise and salad dressings. It prevents bacteria from forming, therefore extending the shelf life of the salad. The chemical itself has a very strong smell, and very small amounts are used in food.
Lactic Acid
Lactic acid can be used as a preservative for salads and their dressings. It was first produced by isolating the sugars and water in cow's milk, but nowadays it is made by fermenting corn, therefore those with dairy intolerance don't need to avoid it. It has a tart flavor, so it is sometimes added to sauerkraut.