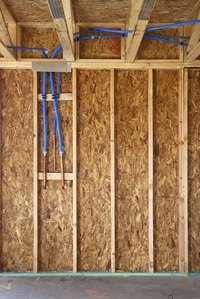 Nominal dimensioning refers to selling products in a stated size when the actual size is different. For example, a company may advertise a rug as "3 x 5 feet" even though the actual dimensions are a little off -- say, 36.5 inches by 59.75 inches. The advertised size is the nominal dimension. The aim is not to mislead customers, but rather to describe products in a standardized manner, or in terms that are more readily understood.
Lumberyard Example
One of the most familiar examples of nominal dimensioning occurs in the lumber trade. The common "2 by 4" stud, for example, is not actually 2 inches by 4 inches. That's the rough dimension after the lumber has been cut from the tree. Once the board has been jointed, planed and sent to the lumberyard, it's really only 1.5 inches by 3.5 inches. Even so, just about everyone refers to it by the nominal dimension. It's easier to say and understand "two-by-four" than "one-point-five-by-three-point-five."
Targets and Tolerances
Nominal dimensions often act as "targets" for a manufacturer. Companies that make 2-inch-diameter pipe, for example, want to turn out pipe that's 2 inches across. But because of variations in materials and production methods, a given batch of pipe might be slightly "off" -- say, 1.998 or 2.003 inches rather than a precise 2 inches. Still, if the size is close enough that it won't cause problems when put into use, it can be sold as 2-inch pipe. The degree to which a product can vary from the nominal dimension and still be acceptable is referred to as "tolerance."