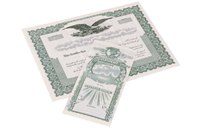 Adobe is a software company that offers a wide range of professional software used by graphics designers, desk top publishers and other important business functions. You may be able to find a job working with Adobe products if you can demonstrate knowledge and experience with Adobe products, but becoming certified as an expert can increase your chances of getting hired and can increase your salary potential.
Graphic Designer
According to Netcomlearning.com, graphic designers holding Adobe expert certification in Photoshop, Indesign, Acrobat or Dreamweaver, earn between $30,600 and $69,730 per year. The lower end of this range represents the entry level salary for designers, while the higher end of the range represents the salaries of those with more experience.
Design Director
Graphic design directors who oversee a staff of graphic designers working with various Adobe design software earn between $66,000 and $98,6000 per year according to Netcomlearning.com. Many graphic design directors have Adobe expert certification in all four Adobe design products, including Photoshop, Indesign, Acrobat and Dreamweaver.
Desk Top Publishing
Desk top publishers work with the same Adobe products that graphic designers use in addition to Adobe Illustrator, PageMaker, FrameMaker, LiveMotion, GoLive, After Effects and Premiere. According to Highersalary.com, desk top publishers who have Adobe expert certification in one or more of these products earn on average $36,660 per year, although some desk top publishers earn as much as $60,000 per year.
Project Management Professional and Six Sigma
For Adobe product experts who wish to increase their salary level, project management offers higher than average salary potential. Adobe experts who have also obtained Project Management Professional (PMP) certification, earned on average $104,253 in 2009, according to IT Certification Lounge. Six Sigma certification offers even higher salary potential. Experts with Six Sigma certification earned $111,908 on average in 2010.