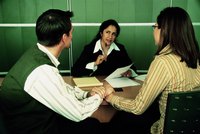 Medical lawyers are malpractice lawyers who either work for health care facilities like hospitals as defense attorneys or as representation for clients who wish to sue doctors or health care facilities. According to the Bureau of Labor Statistics (BLS), there were a total of 369,600 lawyers employed as legal services lawyers in the United States in 2010. Medical lawyers were included within this larger grouping. However, the BLS also notes another 50 that were employed by specialty hospitals. Salaries for this latter group were substantially higher than typical lawyer salaries.
Average Salary
According to the BLS, the average salary of a lawyer providing legal services on behalf of clients, including those involved in suits with doctors or health care facilities, was $136,530 per year, as of May 2010. The average salary of those representing specialty hospitals was much higher at $181,630 annually. Both salary figures are higher than the average salary of all lawyers, regardless of specialty. The BLS indicates that the national average for lawyers was $129,440 per year.
Pay Scale
The national pay scale for lawyers also provides some additional context for understanding the salary of medical lawyers. According to the BLS, the median salary for lawyers was $112,760 and the middle 50 percent earned salaries that ranged from $75,200 to $165,470. The upper 10 percent of all lawyers earned in excess of this latter figure. This means that medical lawyers representing specialty hospitals were among top-paid lawyers in the nation.
Location
Location also provides an indicator of what medical lawyers and other lawyers can expect to make. According to the BLS, the District of Columbia is the top place for a lawyer to work in terms of average salary. Lawyers there made an average salary of $162,830. California, Delaware and New York were also among the highest paying states. Those in New York brought home an average of $150,510, while those in Delaware and California earned $151,750 and $155,740, respectively.
Job Outlook
The job outlook for lawyers is expected to be characterized by continued steady growth in the period from 2008 to 2018. The BLS projects that the number of jobs in this field will grow by approximately 13 percent during this period. In particular, most opportunities will be with larger firms. The bureau indicates that independent lawyers will find it increasingly difficult to compete with these firms. It also indicates that specialization is becoming increasingly important, so those with backgrounds in areas like medical law can expect more favorable job prospects.