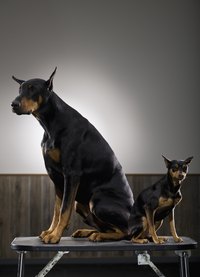 Tail docking and ear cropping in canines is a controversial issue. Miniature pinschers are among the dogs that may have their tails docked along with dobermans, rottweilers and Jack Russel terriers. The procedure is performed for aesthetic reasons only. For instance, in sheep, the tail docking is performed to prevent certain diseases and keep the animals clean, but in dogs, the shortening of the tail doesn't have a medical purpose.
Tail Docking for Show Dogs
According to American Kennel Club, the miniature pinscher breed standard has the tail docked in proportion to the size of the dog. This is done to keep the tail erect during the shows and the shape of the dog's body and its features are easily observable. If you are planning to participate in dog shows, your min pin should have its tail docked. The tail docking is performed when the dog is two days old. The vet ties a string around the tail and the portion of the tail after the string will fall off due to the fact that the blood doesn't circulate in the tail.
Advantages of Tail Docking
If performed by a certified vet with experience and early in the dog's life, the tail docking typically doesn't cause any side effects or trauma in the dog. Your pet will get used to having a short tail and can take part in competitions, provided it fulfills the other selection criteria. In dogs used for hunting purposes, a shorter tail is unlikely to get caught or produce noise and warn the prey. However, min pins are typically house pets and they only hunt rats.
Disadvantages of Tail Docking
The procedure may have some risks such as post-surgery infections. The dog uses its body and tail to send messages to other dogs. The position of the tail may indicate a wide range of emotions, from excitement to fear. A dog with a docked tail will not be able to use its tail, but it should adapt and use its body, ears or even voice signals to communicate. If the procedure is not performed when the dog is two days old, it's best not to dock the tail. The procedure can be extremely traumatic for an older dog.
In Conclusion
When getting a pet such as the miniature pinscher, you should know about the breed standards in case you want to show your pet in competitions. In this case, tail docking is a must. However, if you are getting a min pin only as a companion and you don't intend to take it to dog shows, you should know about the pros and cons of the procedure.