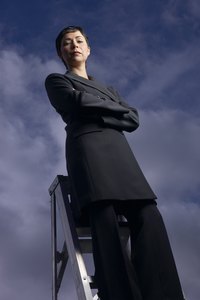 Organizations customize their structures, terminology and cultures to their needs. As a result, there are a myriad of management titles and ranks. Some companies have directors, others managers and still others both. Of those that use both, directors frequently rank higher than managers -- but not necessarily. The truth is that every company has its own approach to organizing itself.
Vertical Organizations
Organizations that emphasize top-down management usually have vertical organizational structures. These involve many layers of management with power concentrated among a few people at the top and mid-level managers overseeing specific functions completed by many workers at the bottom of the organizational chart. This kind of structure is typical of banks, airlines and hospitals where workers perform specialized and sometimes repetitive tasks. The many layers of management can result in having both director and manager positions, which directors typically overseeing broader operations than a manager. For example, a bank branch manager in Los Angeles is subordinate to a director who oversees Southern California branch operations.
Horizontal Organizations
Professional organizations, small businesses and companies with diverse product or service lines often use horizontal organizational structures. These have fewer layers of management and emphasize equality. Because horizontal organizations often have only one or two layers of management, they may have many people with either manager or director titles supervising teams.
Alternative Titles
Some companies prefer to eliminate traditional management titles, and use neither manager or director. Instead, titles may include team leader, team captain and coach. Usually companies operating this way try to deemphasize power distance and create closer bonds between managers and employees.
Other Traditional Titles
A number of traditional managerial titles are used in place of manager and director. These can include supervisor, shift lead and vice president. Although vice presidents are usually above supervisors, managers, shift leads and directors, they may not be above senior, regional and divisional vice presidents.