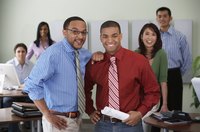 Workers make a commitment to their employers for many reasons -- some of them positive, such as feelings of affection, and some negative, such as fear of economic hardship if they leave. An influential model of organizational commitment developed by management experts John Meyer and Natalie Allen identifies three kinds of commitment, one of which is "normative." In short, normative commitment is commitment rooted in a sense of duty and responsibility to the company.
Normative Commitment
In the three-part model of organizational commitment that Meyer and Allen introduced in 1991, normative commitment occurs when an individual commits to an organization out of feelings of obligation. For example, if a company invests resources training an employee, that employee may feel duty-bound to repay the debt. This is called "normative" commitment because people are brought up within the organization with the idea that it is the norm to be loyal and dutiful, and this feeling is reinforced by the company culture.
In Modern Businesses
Some critics call normative commitment outdated, as it requires employees to feel a sense of loyalty that is often not reciprocated by their employers. With decreasing job security, employees who think realistically about their organizations may be less motivated by normative commitment and instead rely on other forms of commitment to keep themselves coming in to work each day.
Comparisons With Other Types
"Continuance commitment," sometimes misstated as continuous commitment, occurs when an employee stays because he or she fears the consequences of leaving, such as economic difficulties or the loss of social status. In "affective commitment," the employee commits out of good feelings toward the organization, developing a positive emotional attachment to the company. This is similar to normative commitment, but subtly different in that it is motivated by a personal enjoyment rather than a sense of duty.
Enhancing Normative Commitment
Organizational psychologists suggest strategies for enhancing commitment in general, and some of these suggestions are particularly applicable to employees who experience normative commitment. They suggest that business owners and managers guarantee organizational justice by having a comprehensive grievance procedure, and support employee development by promoting from within and providing employees security. These actions help employees with normative commitment feel that their sense of duty to the company is matched by the company feeling an obligation to take care of them in return.